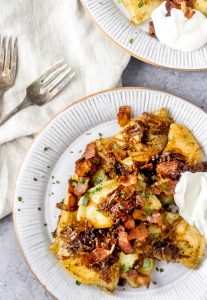 I saw these pierogies on Half Baked Harvest blog before Christmas and I knew I had to try and make them. She made them look pretty easy to make and I can tell you, they really are. I especially loved working with the dough, it's beautifully soft and elastic and I honestly can't wait to make them again, next time I'll go for a sweet version, perhaps with plum jam.
This time however I went with pretty much the same filling and topping as Tieghan, I just made a few changes like using sour cream in place of yogurt. I also made the filling by using my leftover mashed potatoes from the Christmas dinner. I hope you try making this, a few people already sent me messages and pictures of it after seeing me prepare them on my Instagram stories. This makes me so happy guys, I love feeding people so much and since I can't feed all of you this is like the best next thing – inspiring you to cook something – so if you do please let me know in the comments or over on my Instagram account!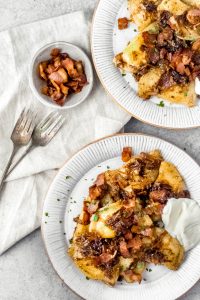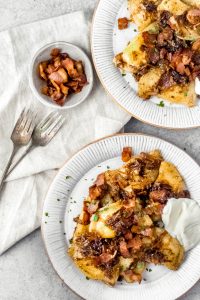 Brown Butter Cheddar and Potato Pierogies
2020-01-05 00:02:32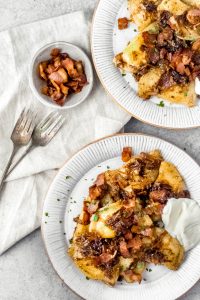 Serves 8
Pillowy cheddar and potato pierogies in brown butter suace with caramelized onions and bacon
Nutrition Facts
Amount Per Serving
* Percent Daily Values are based on a 2,000 calorie diet. Your Daily Values may be higher or lower depending on your calorie needs.
for the dough
2 cups all purpose flour
1 teaspoon salt
2 tablespoons butter, melted
1 cup sour cream, plus more for serving
1 large egg
for the filling
3 cups cold mashed potatoes
2 cups shredded cheddar cheese
for the sauce
4 tablespoons butter
2 thinly sliced yellow onions
2 cloves of garlic, minced
1 tablespoon sugar
salt and pepper
6 slices of bacon
fresh parsley for garnish
Instructions
Combine all of the dough ingredients in bowl an mix. Knead for 2-3 minutes then set aside and let rest for half an hour.
In a separate bowl combine the shredded cheddar cheese with the mashed potatoes and keep in fridge until ready to use.
Prepare the sauce and toppings while the dough is resting.
Slice the bacon in 1" pieces and cook in a pan until crisp. Take the bacon out and reserve for later. Add 2 tablespoons of butter to the bacon fat and let them melt then add the sliced onions and cook for a couple of minutes. Season with salt and pepper, add sugar and continue cooking until it's nicely caramelized. Add the garlic and the rest of the butter and cook until the butter is nicely browned.
Once the dough has rested roll it out in just under 1/8" thickness on a floured surface then cut out using a round 3" cookie cutter or I just used a glass. Scoop about 2 teaspoons of the filling on each round and using your finger brush the edges, this will help seal them properly. Fold each pierogi in half and seal the edges making sure you are not leaving any air pockets inside because this may cause them to open when cooking in the water.
Boil a large pot of water and season with salt. Cook the pierogies for about 3 minutes or until they float then drain and put into the brown butter and caramelized onion sauce.
When serving top with crispy bacon, some fresh parsley and sour cream on the side.
Adapted from Tieghan from Half Baked Harvest
Mogwai Soup Blog https://mogwaisoup.com/