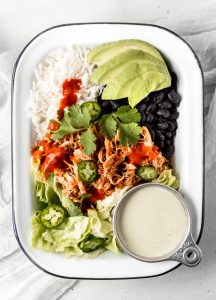 Met my lunch most days of the week. Sometimes I have more components in my bowl and sometimes I have less. Sometimes honestly my favorite is rice, black beans and a fried egg on top with some avocado and hot sauce, but I usually do have some kind of meet I made in the instant pot, and in todays bowl that is easy salsa chicken!
I recommend this combo of lettuce, rice, black beans and avocado to go with it but combinations are endless, you do you. This recipe is embarrassingly easy and quick and requires you to just literally grab some chicken breasts and your favorite store bought salsa (it could be salsa verde too). Put it in your instant pot and in 20 minutes you have your protein ready to go. People ask me often do I use my instant pot a lot. Guys, I use it all the time for so many things, but I make black beans in it weekly (recipe coming soon), I make amazing carnitas and bbq pork in it as well as barbacoa beef. I will get around to posting these recipes soon, but just so you know how much I love it, I went ahead and bought an 8 Qt one too for when I want to cook bigger cuts of meat or bigger batches of whatever I'm making!
Anyway, this salsa chicken can go on salads, tacos, bowls, burritos…you name it!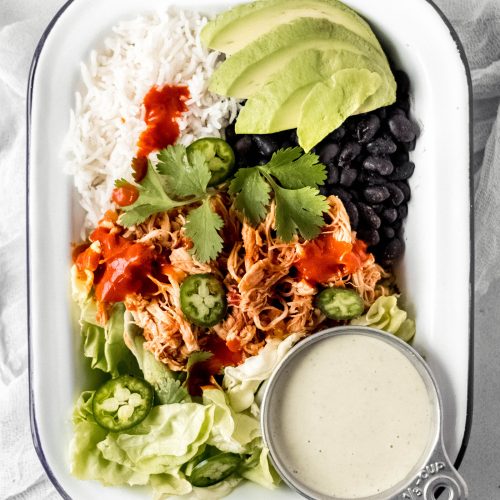 Salsa Chicken Burrito Bowl
Delicious bowl of shredded chicken combined with rice, beans and veggies.
Ingredients
Salsa Chicken
3

chicken breasts

1

jar

salsa

salt

pepper
To assemble
lettuce, chopped

black beans

white rice, cooked

avocados

hot sauce

cilantro

jalapeno slices, fresh or pickled
Instructions
For Salsa Chicken
Add the salsa and the chicken breast to the instant pot, season with salt and pepper. Add the top on and seal the went. Put on pressure cook for 20 minutes then release pressure. Shred the chicken and mix it well with the salsa and the juices in the instant pot.
To assemble
Put lettuce in your bowl first then add some rice and beans. Top with some Salsa chicken and sliced avocados. Sprinkle on some cilantro (or green onions if you don't like cilantro) jalapeno slices and hot sauce, serve with your favorite dressing and enjoy!