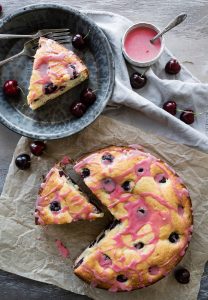 Cherry season is the best season. Period. It just is. All year I patiently wait for my favorite fruit to arrive in the stores and when it does you better believe I am not baking with it for the first few weeks. It's just straight up cherry eating for breakfast, lunch and dinner, I might include some other foods in this diet during the day but I seriously eat, breathe and live cherries! After that initial phase is satisfied, I start baking, and thats what I've been doing for a few weeks. There were some flops, but this is not one of them. This I would proudly serve to a friend with a cup of coffee or a glass of wine, hey – you do you.
I am also very grateful that I can find cherries in Utah for much longer than I could in Croatia. In Croatia I used to blink and boom, cherry season was over. So I'm counting my blessings here. Now let's get to it!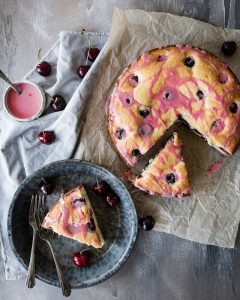 Cherry Vanilla Cake
A simple Vanilla base cake loaded with juicy cherries and finished with a fun colorful glaze
Ingredients
For the Cake
2

cups

flour + 2 Tablespoons

3/4

cups

butter (1 1/2 stick)

room temperature

1 1/2

tsp

baking powder

3

eggs

room temperature

1

plain Greek yogurt (5.3 oz)

room temperature

1 1/2

cup

sugar

1

Tbsp

Vanilla bean paste

1

lemon, zest only

1

orange, zest only

reserve couple of tablespoons of juice for glaze

3

cups

cherries

pitted

1

tsp

salt
For the Glaze (optional)
3/4

cup

powdered sugar

1 1/2-2

Tbsp

orange juice

1

cherry

pitted, split in half
Instructions
For the cake:
Spray your springform pan generously with cooking spray and preheat the oven to 350 degrees.

Beat butter and sugar until light and fluffy for about 3-4 minutes then add the eggs one at a time, beating well after each addition. Add the Vanilla bean paste and lemon and orange zest.

In a separate bowl whisk together the flour, baking powder and salt. Add half to the butter and egg mixture and beat on low speed until incorporated. Now add the yogurt until incorporated and finish with the rest of the flour mix. Do not over beat.

Toss the cherries with a little bit of extra flour and gently fold them into the batter.

Bake for 60-65 minutes at 350. Check for doneness with a toothpick. It is done when the toothpick comes out clean or with just a few moist crumbs on.

Let rest 10 minutes before transferring it from the springform pan on to the cooling rack, then let it come to room temperature before serving.
For the glaze:
Pit and slice one cherry in half. Put it in a bowl with a couple of tablespoons of orange juice and let it sit for ten minutes to release some of its color.

Stir the powdered sugar in with the orange juice and pour over the cake once it is at room temperature.
Notes
The cake is delicious with or without the glaze, I added it for a fun pop of color and because my kiddos always love the glazed parts the best!