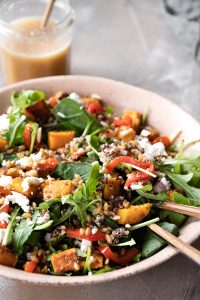 This is my take on my favorite Trader Joe's salad. We can call it copycat. 🙂
I used to buy it for years, and now I've been making my own for even longer too. I dare say, homemade one is even better. It has a bed of spinach and arugula, shallots, roasted red pepper, roasted butternut squash, quinoa, wheat berries, dried cranberries and raisins and goat cheese. All covered in a yummy vinaigrette. This is an amazing salad, especially this time of the year. I love to make it for just us and guests as well. It is filling and very healthy too and once you prep everything, which isn't hard to do at all, you are set for several meals, rather than a tiny boxed salad. Win win.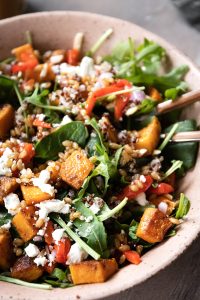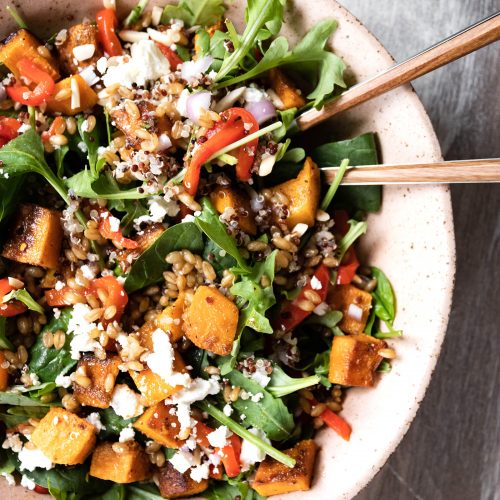 Roaster Butternut Squash, Quinoa and Wheatberry salad
Roasted butternut squash salad with arugula, baby spinach, quinoa, wheat berries, roasted red peppers and goat cheese
Ingredients
For the salad:
4

cups

arugula and baby spinach mix

2

cups

butternut squash

1

tsp

thyme, minced

1

tsp

rosemary, minced

olive oil

1/2

cup

quinoa, cooked

1/2

cup

wheat berries, cooked

1/3

oz

crumbled goat cheese

3

tbsp

dry cranberries

3

tbsp

golden raisins

1

red pepper, roasted

1/4

cup

chopped or slivered almonds

1/4

cup

diced shallots
For the vinaigrette:
1

tbsp

canola oil

1

tbsp

honey

1

tsp

soy sauce

1

tsp

rice vinegar

1

tbsp

lemon juice

1/2"

grated ginger

1

tbsp

water

1

clove

garlic, minced

salt and pepper
Instructions
For the vinaigrette:
Grate the ginger and mince the garlic. Put all of the ingredients into a mason jar and mix well. Set aside.
For the salad:
Preheat the oven to 400 F. Cut the bell pepper in half and clean out the seeds and the membranes. Rub with olive oil and season with salt and pepper.

Cut a very thin piece of the bottom of butternut squash to make it more stable, use a vegetable peeler to remove the skin. Cut it in half lengthwise. With a large spoon scoop all of the membranes and seeds from the center. Cut it into  1/2″ cubes. Season the squash with olive oil and some fresh thyme and rosemary and salt and pepper. Toss it all together so everything is coated and then put on a baking sheet. Put the bell pepper next to the squash. Roast for about 30-40 minutes until it's starting to brown nicely, but keep an eye on the red pepper. Take it out after about 25 minutes and put it in a paper bag until the squash finishes roasting.

While the butternut squash and bell pepper are roasting cook the quinoa and wheat berries according to their packaging. I like to cook mine in vegetable broth so I recommend that.

Take the pepper out of the paper bag and peel the skin off, slice it thinly. Slice the shallot and crumble the goat cheese. If you are using whole almonds chop them.

Assemble the salad by starting with bed of arugula and baby spinach mix and then layering all the other ingredients. Reserve a bit of goat cheese, almonds, raisins and cranberries to garnish with. Pour the vinaigrette over and mix everything well. Enjoy!
Notes
I like to prepare enough butternut squash and red bell pepper as well as quinoa and wheat berries in one go so I can eat the salad several times, it's easy and so convenient for the week!