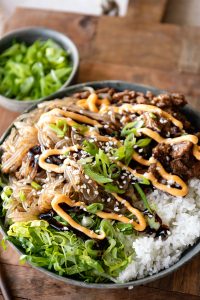 We have a local to Utah Korean restaurant called Cupbop. The concept is it serves rice and Korean glass noodles in a bowl, you choose how much of everything you want, which protein you get and how spicy the level of your sauce is. It is absolutely delicious and I wanted to be able to eat it whenever I want to so I made my own copycat recipe home. Basically it's a bowl with some lettuce, rice, the glass noodles, bulgogi beef, sriracha mayo and I like to top mine with some eel sauce too. You mix it all (YES!!! you have to) and go to town. You must try this one, it's seriously that good!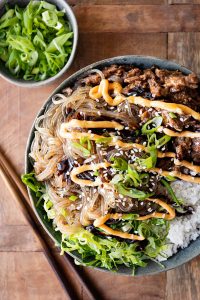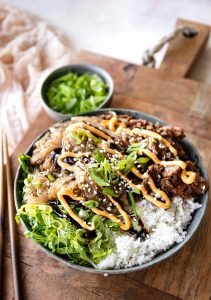 Korean Rice and Noodle Bowl
Korean rice and glass noodle bowl with beef bulgogi
Ingredients
For beef bulgogi:
1 1/2

lbs

flank steak

1/2

cup

soy sauce

1

tbsp

Sriracha

3

tbsp

sesame oil

4

tbsp

brown sugar

2

Asian pears, grated

1

tbsp

Gochujang paste

2"

ginger, grated

10

cloves

garlic, minced

salt and pepper
For the bowls:
shredded lettuce

cooked white rice

cooked Korean glass noodles

beef bulgogi

sriracha mayo

ell sauce

sesame seeds

green onion, green parts only
Instructions
For beef bulgogi:
Thinly slice the flank steak. Peel and grate the Asian pears, grate the ginger and mince the garlic. Add all ingredients to an instant pot, close the lid and seal the vent. Set it on high pressure for 15 minutes, then release pressure manually when it's done. Remove the lid.

Change the setting to saute and cook for 5-10 minutes until the sauce thickens some.
To assemble to bowls:
Cook the glass noodles and rice. Shred the lettuce. Mix 1 tbsp of sriracha and 1/3 cup of mayo to make mayo sriracha. Put some rice, noodles and lettuce in a bowl (about cup each) and top with the beef bulgogi. Drizzle some mayo on as well as the ell sauce. Top with sesame seeds and green onions.