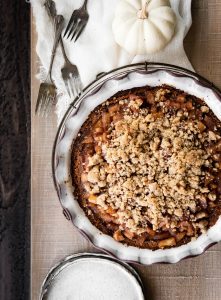 So last weekend I asked my boys what would they like me to bake. Fall is my favorite time to bake and they often help me, but sometimes it's hard for them to agree on what they want. We settled on a pie, but Dino wanted pumpkin pie, and Mika wanted apple pie or crumble. I like pumpkin pie fine, but honestly much prefer sweet potato pie and thought maybe I can combine the two and make everyone happy, including myself! I decided to do a pumpkin pie in a graham cracker crust and top it off with apple pie filling and crumble on the top. Best of both worlds. Turns out I just needed a little bit of something extra with the pumpkin to absolutely love it. So much better than regular pumpkin pie in my opinion and the family loved it too. It's such a fun and yummy combination! I think we have a winner for years to come. Oh, and best part? I used my mother-in-law's pumpkin pie recipe as a base which she once told me was back of the Libby's can recipe. And it is! I simplified the spices, but that's it!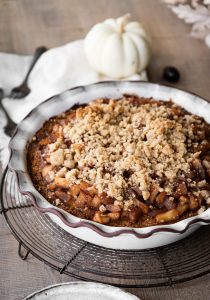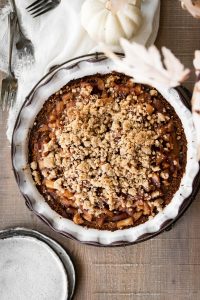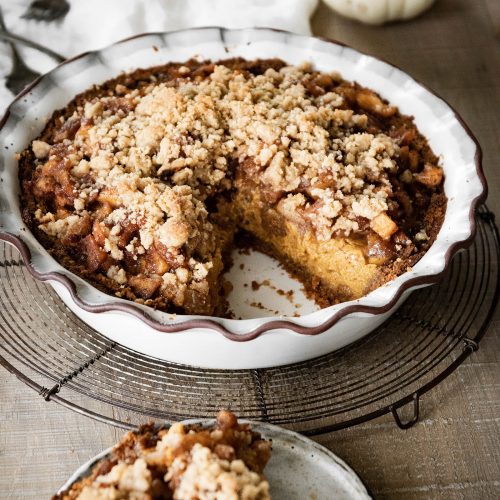 Pumpkin Pie Apple Crumble
A delicious combination of a pumpkin pie in graham cracker crust and apple crumble on top
Ingredients
1

packets of graham crackers

1

stick

butter

1

can

pumpkin

1

can

evaporated milk

3/4

cup

sugar

1

packet

Vanilla sugar

or 1 tsp Vanilla extract

1/2

tsp

salt

1

tbsp

pumpkin spice

2

eggs

4

Granny Smith apples

1/3

cup

sugar

1

tsp

cinnamon

1/2

tsp

ginger

pinch

of ground cloves

2

tbsp

lemon juice+ zest of one lemon

3/4

cup

flour

1/2

cup

brown sugar

1/4

tsp

salt

1/4

tsp

cinnamon

1/4

cup

melted butter
Instructions
Preheat the oven to 375 degrees and get a deep pie dish.

Blend the graham crackers in a food processor and add the melted butter. Press it in well into your pie dish and bake at 375 degrees for 10 minutes.

Heat the oven to 425 degrees.

Mix 3/4 cup sugar, vanilla sugar and eggs in a bowl of a stand up mixer. Add the salt, pumpkin spice, and pumpkin pure and mix. Add the evaporated milk and mix until well combined. Pour the mix into the graham cracker crust and bake for 15 minutes on 425 degrees then lower the oven to 350 degrees and bake another 25 minutes.

While the pie is in the oven peel and core the apples. Dice them in about 1/2-1" pieces and then cook them on the stove with 1/3 cup sugar, cinnamon, ginger, pinch of cloves and lemon juice and zest. Stew them stirring for about 20 minutes.

Prepare the crumble topping while the pie and apples are cooking.

Combine the flour with the brown sugar, salt, cinnamon and melted butter.

Once the pumpkin pie has baked for additional 25 minutes on 350 degrees take it out and carefully top with apples. The pie will still be pretty soft and jiggly so it's normal that some apples may sink a little. Top the apple with the crumble mixture and return to the oven for 25-30 minutes until slightly browned on the top. Let it cool before serving.