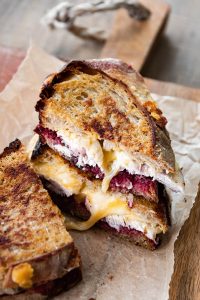 Sometimes I look forward to this sandwich more than the Thanksgiving dinner! It is quite simple, and I often change the type of cheese I put in, but it is basically leftover turkey, cranberry sauce, cheese, here I used two kinds of cheddar, but I also really love it with Brie, mustard and butter. Lots of butter. And having yummy homemade sourdough sure helps! I also love my mother-in-law's stuffing in this, she makes a very specific kind that is just phenomenal and cooked inside the turkey and if I had some this year, it would have been in this. But 2020. This is still a super yummy sandwich, super moist and flavorful and a great way to use up some of the leftovers. My husband for sure appreciates this more than the whole Thanksgiving dinner, he will always and forever vote for grilled cheese sandwich first haha. Sometimes I wonder why I even bother with the whole dinner. My boys are so funny. I will write up quickly underneath here what I used, you can use a regular pan or even a cast iron skillet for this or a panini grill if you have it. I do, but I decided to go the cast iron skillet route with a ton of butter!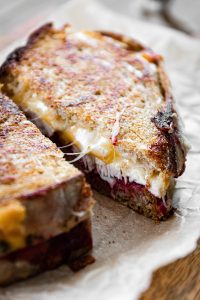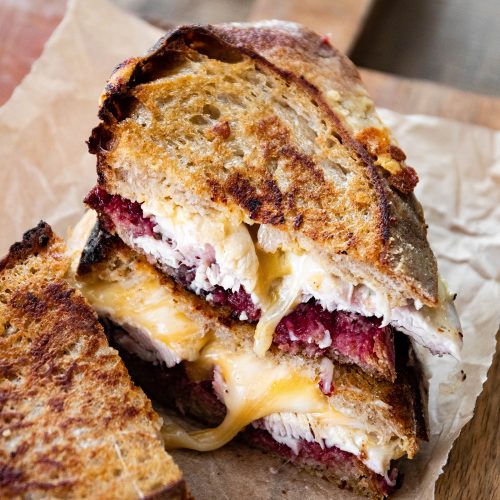 Turkey and Cranberry Sauce Grilled Cheese
Leftover turkey and cranberry sauce grille cheese sandwich
Ingredients
4

slices

sourdough bread

8

slices

leftover turkey meat

4-5

tbsp

cranberry sauce

1/2

cup

white cheddar

1/2

cup

medium cheddar

2

tbs

Gray Poupon mustard

butter
Instructions
Prepare all your ingredients. Slice the bread, turkey and grate the cheese. Preheat your pan.

Butter one slice of bread and spread mustard on the other. Put cranberry sauce on top of the butter then top with the turkey. Put half of the cheeses on top of the turkey and carefully cover with the second slice, mustard side down. Repeat with the other sandwich. Butter the top of the sandwiches well and put that side down on the pan, butter the other side that is now up with butter as well and cook on medium low heat until nicely golden brown on each side, for about 10-15 minutes. Enjoy!