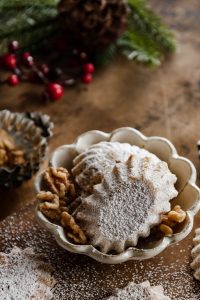 Sretan Sveti Nikola! Or Happy Saint Nicholas's Day! Today kiddos across Croatia are finding treats in their boots and perhaps a beautiful golden branch. It is a custom I will write about more in a couple of days, but my boys woke up to their golden branch and a treat this morning too. It is so important for me to keep up with the traditions I grew up with and give those experiences to my kids. I know a lot gets lost down the road, especially when the whole country isn't celebrating something, but it's just me trying to keep those customs going. However, as long as there's a treat (and perhaps a tiny toy) involved, my kids are more than happy to participate and keep them going. Makes my mama heart happy to hear then asking "When is St.Nicholas coming?".
They are also more than happy to participate in these walnut cookies that we call bear paws back in Croatia. I used to make them a long time ago, but the recipe wasn't great so I didn't make them in a few years, however these turned out so beautiful, we loved them. They were one of our favorites from all the cookies I made this year, and I made a lot! I found the recipe on a Croatian cooking website Coolinarka and I'm linking it here for you in case you are one of my Croatian readers and want to check out the original Croatian recipe! They are called bear paws because in a traditional mold set back home the shape is really cute looking like a bear paw. Here I used two different mold sets, one that my dear friend sent me and one I found on Amazon, this one is something similar that could work. These cookies are made with ground up walnuts and are finished off by dusting them in confectioners sugar. Like many of our cookies, they are better after a day or two after being stored in an airtight container and can be enjoyed for a couple of weeks like that. I usually freeze half a batch and save it for closer to Christmas when I take the rest out for my cookie platter. More on that later too. I freeze them wrapped in plastic wrap and then in a ziplock bag. Also, this is the Vanilla sugar packets I get if I'm not making my own.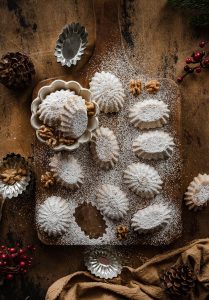 Bear Paw Cookies
Ingredients
1

cup

sugar

1

egg

200

g

butter, room temperature

3

cup

all purpose flour

2

cups

ground walnuts

1

tsp

baking powder

1

packet

Vanilla sugar

1

lemon, zest only

1/4

tsp

salt

confectioners sugar
Instructions
Preheat the oven to 350 degrees.

In a kitchen stand up mixer blend sugar, vanilla sugar and butter together until light and fluffy. Add the egg and mix well again.

Add the lemon zest, flour, walnuts and baking powder and mix until everything is well incorporated.

Spray the cookie molds with nonstick spray and fill them by pressing the cookie dough in about 2/3 of the way up. Bake them for about 15 minutes until they are light golden brown. Leave them in the molds for about 5 minutes to cool slightly, then invert them and clean the molds, re-spray them and repeat the process until you run out of the dough.

Once they are cool dust them liberally with confectioners sugar. They taste better the next day!