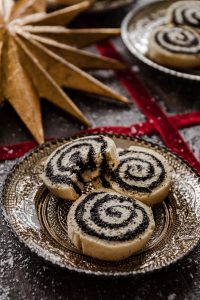 Want to hear something funny about these Poppyseed Swirl Cookies? I wanted to create a really beautiful effective cookie for my Holiday cookie box that I was shooting for Christmas and also pull from my Croatian roots so I decided to try and make a pretty swirl cookie. We have poppyseed swirl bread in Croatia (and walnut swirl bread too that is already on my blog and ah-mazing!) and that was my inspiration. They turned out absolutely beautiful. I carefully stored them in boxes and put aside for a few days until all the cookies were ready to be shot. And that time came. And I got carried away a bit and baked a lot of cookies this year. And yes, I forgot about these gorgeous cookies, they didn't make it in my Holiday cookie box picture. By the time I realized a few hours after I was done shooting, I had already packaged up my cookies and took them to friends and family. I was not going to be stuck in the house with that many cookies, I only left a few favorites for my kids, but not enough to shoot the cookie box again with these gorgeous and delicious poppyseed swirl cookies. So I accept that it was not meant to be this year. This year they wanted to just shine like this, on their own.
I have to say they are delicious. My hubby doesn't like poppyseeds a lot, he is ok with an occasional one in a lemon muffin but is not the biggest fan for bigger quantities, I however love them! With some rum extract added, oh Lordy it's so yummy! And they really are beautiful cookies so if you do love poppyseeds, I sure hope you give them a try!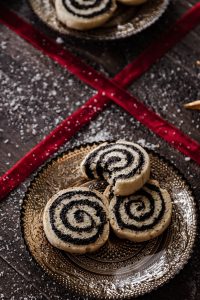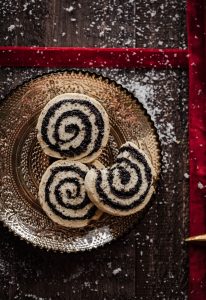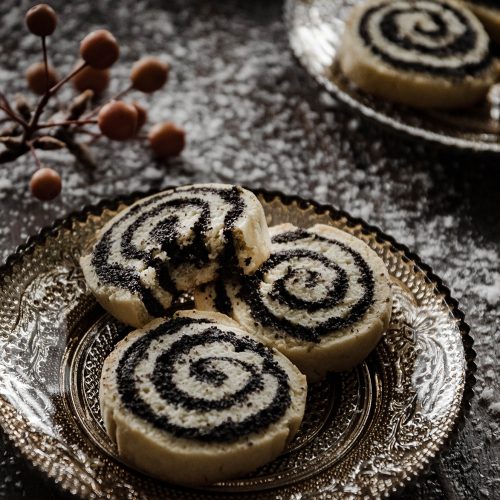 Poppyseed Swirl Cookies
Swirl cookies with poppyseed and rum filling
Ingredients
For the dough:
10

tbsp

butter, room temperature

1/3

cup

sugar

2

cups

all purpose flour

4

oz

sour cream

1

egg yolk

1

tsp

baking powder

1

tsp

Vanilla extract

1/2

tsp

Rum extract

1/4

tsp

salt

Egg yolk and Crystal Sugar for rolling the roll in
Poppyseed filling:
200

grams

poppyseeds

3/4

cup

sugar

2

bags

Vanilla sugar

(I get it on Amazon Dr.Oetker brand)

1/4-1/3

cup

very hot milk

1

tsp

Rum Extract
Instructions
Mix the butter with the sugar until light and fluffy then add the egg yolk and the sour cream and the extracts. Mix for about 30 seconds before adding the flour, salt, and the baking powder. Mix well for about a minute or two.

Blend the poppyseeds in a blender or food processor for about a minute or so then mix it with the sugars and rum extract. Pour 1/4 cup milk to it and mix well. You want to wet it enough so it is spreadable but it in no way should be runny. If it doesn't seem enough, add 1 tablespoon of milk more, one at a time until it is the right consistency. One thing that comes to my mind right now to compare it to is wall mudding paste. Weird, I know.

Roll the dough into about 1/4" thick rectangle and then spread the filling on top in the same thickness leaving just about an inch free along one long side. Carefully and tightly roll the dough with the filling into a log, finishing it on the side that didn't have filling all the way to the end. Try to shape it in a nice and even log and then transfer it to fridge for a minimum of 30 minutes to harden a little before cutting.

Preheat the oven to 350 degrees.

Once the log has hardened enough, take it out of the fridge and beat one egg yolk then brush it all over the log and roll it into the sugar. Cut the log into 1/2' thick slices and carefully arrange them on parchment lined baking sheet.

Bake the cookies for 15-20 minutes until they are starting to brown lightly. Let them cool completely before serving, they are best after they had about a day or two to rest. I store them in an airtight box for up to 10 days.