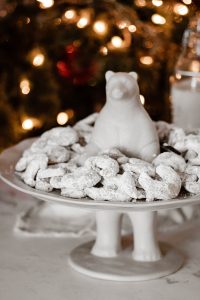 Christmas has always been my favorite time of the year. I don't remember much about Christmas in Croatia before I was about eight other than one great memory where my dad is wearing a tall magicians hat and has this giant box that he pulls the biggest stuffed lion toy ever from. I am talking huge, bigger than me. I was three or four years old and obviously was as impressed as you can get and I still remember it. My Christmas memories really start more around the age of ten and even though my parents were great with gifts, my favorite memories are definitely centered around food. Croatians are very big on their foods and it's unheard of visiting family or a friend and not being absolutely fully fed!
To me the season always started with St.Nicholas's Day which is on December 6th. Like tradition says, we would clean our boots the night before and put one on the window sill hoping St.Nicholas would leave us a treat if we were good, and if not there would be a branch waiting for us. Well, we all always got the branches and treats and let me tell you, If I ever didn't get my branch, I would throw an absolute fit! The branches sound bad, but in reality they are these cute gold or silver sprayed branches with red ribbons, sometimes even a small bell on them and they to me are the main part I look forward to. We would always get some chocolates too, and it was also tradition to leave an orange in the boot, but I don't do that with my kiddos anymore. We do put the boots in the window though and I upgraded it slightly by also leaving a very small gift in there too, like a dinosaur egg or a deck of cards, and obviously a treat and the golden branch. Don't tell anyone but I have been recycling the same branches since both boys have been born. I bought two of them 11 years ago when we had our last Christmas in Croatia, my older boy was turning one then. I got one for both him and me and carefully wrapped them and brought them home with us. Those old recycled golden branches mean everything to me. Silly but true.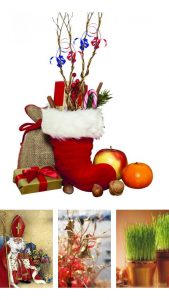 Another custom we have is to plant wheat seeds on St.Lucia's Day which is on December 13th. The saying was that you could tell how the harvest was going to be next year by how well your wheat grew till Christmas Day, and even though almost none of us are farmers anymore, most Croatians still plant the wheat in small decorative pots or bowls and tie ribbons around it on Christmas Eve. I always had a competition with my dad to see who's would grow better, I wasn't great at it but I might attempt it here this year with my boys.
By mid December every Croatian household is already plenty busy baking up a storm of small cakes and cookies that will be served on platters for visiting family and friends and there are just so many kinds that one could find on there, each more delicious than the last. I still do this here in Utah every year, even though I don't always make a dozen different ones, but every year I make at least five or six cookies and cakes and go from there. Many of our cookies and cakes are made with walnuts and almonds, and we definitely love rolling everything in confectioners sugar! This year I am making three different kind of walnut cookies, one are called bear paws and the other are vanilla crescents or how they are called in German vanillekipferl and last ones are walnut merengue cookies. Northen Croatian cuisine has a lot of influences from Germany and Austria, so we also love Linzer cookies and I always make Linzer Torte for Christmas, that is my most favorite cake and dessert ever. All the spices in there are incredible and I do it with apricot jam, always. It is more traditional than raspberry jam and I also like apricot jam more. I remember baking with my mom at Christmas time when I was still home, it was special and something that we did together. I remember the excitement and feeling of togetherness that I felt. My grandmother would contribute too when she was living with us, it was beautiful. To this day, baking those old recipes makes me feel closer to them, with each cookie and cake I bake, or savory dish I prepare I'm closer to my mom in Croatia and my grandma in heaven. <3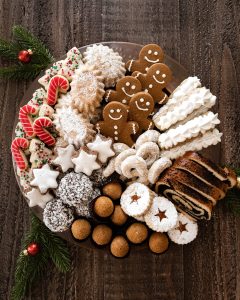 Another thing that might welcome you when visiting friends and family is charcuterie boards, they are often not too elaborate how it's popular here these days with all the different kinds of nuts, dried fruits and bits, but more often than not you will enjoy homemade salamis, sausages and cheeses and cured smoked bacon that is just pure heaven. Everyone has or knows someone in little towns that still have farmers or have access to best ingredients to hand-make small quantities of the most delicious cuts. In the south of Croatia instead of salami, you will find prosciutto and I may be a little biased, but I've tried prosciutto from literally everywhere and prosciutto from Dalmatia is the most flavorful one, without a doubt. I would actually compare it intense flavor to Spanish Jamón Ibérico ham. So delicious. And don't even get me started on the cheese.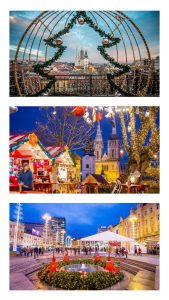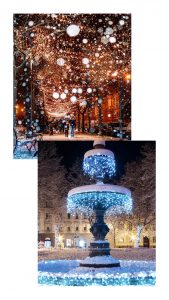 As far as decorations go, Zagreb is like a city from a fairytale once all the decorations go up. And with the decorations also come food stands and tents all over the city center. You will find the most amazing sausages and hot dogs there (I seriously cannot find anything comparable here in Utah, think deliciousness and amazingness like German best quality sausages), then Fritule (small fritters like donut holes), and a whole plethora of Croatian specialties to warm you up while Christmas shopping, along with mulled wine and hot chocolate on every corner. This year for sure will not be the same, but when we don't have a raging pandemic, Zagreb is so alive and the streets are simply humming with excitement and joy of the season.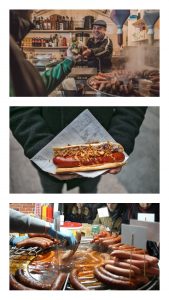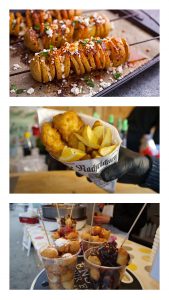 While we light the first Advent wreath candle on the fourth Sunday before Christmas Day, many Croatians don't wait for Christmas Eve to decorate their trees anymore, but we do keep everything up until January 6th, the Epiphany. (Or if you are some of my friends, you might keep your trees up till Easter, you know who you are.)
On Christmas Eve some people only eat fish and my family eats Baccala and that has been our tradition longer than I've been alive. We prepare it brodetto style, cooked with thinly sliced onions, sliced potato, canned whole tomatoes, parsley, garlic, white wine and good olive oil. It is simply incredible. Baccala is actually salted (and sometimes dried) cod fish, it has a very specific taste and I get mine from the Mediterranean Market and Deli here in Utah on corner of State Street and 3900 South!
This dish is definitely an Italian influence that we have on our cuisine in the south and I have to say it's truly an amazing dish. Thank goodness for all the different food influences we've had in Croatia, I love our food! My family also makes Fritule on Christmas Eve, that is our dessert and we make them in a special way and only that one time on Christmas Eve. Can you imagine how excited for Christmas Eve we all are so we can eat these favorite foods!?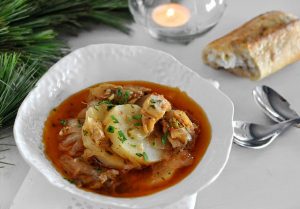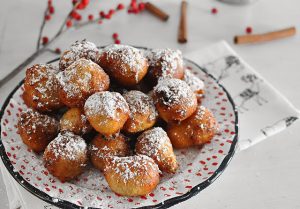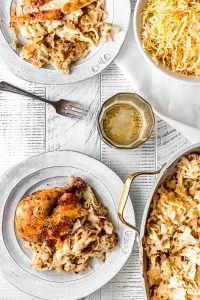 On Christmas itself we eat a roasted turkey or duck with Mlinci, which is is a thin dried flatbread that is easy to prepare by simply pouring boiled salted water or soup over it and then mixed with yummy roast gravy. We also have something we call French salad, a cold dish we serve on many celebrations and it is chopped potatoes, eggs, pickles, carrots, apple (and my family puts capers instead of peas) mixed with mayo and mustard, so like a more elaborate finer chopped potato salad. There will also be other fresh salads on the table, like coleslaw etc. And then again a selection of smaller cakes and cookies for dessert, my mom always made a flourless chocolate almond cake too, a cake we call Reform Torte. It is definitely a feast and we eat leftovers for days, just like here in the US.
Last food tradition of the season we have is for the New Year's, when it's traditional to eat dishes like Roasted pork or Sarma. Sarma happens to be my favorite dish on the planet. It is brined cabbage leaves stuffed with meat and rice and made into little rolls and then cooked with smoked meats like the cured bacon and ham hocks. We eat it with mashed potatoes and/or good crusty bread and it's truly incredible. if you ever wanted to taste something totally unique, sarma is the way to go. Many of my American friends fell in love with this dish!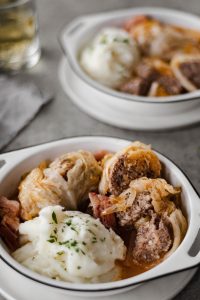 By the time we eat the leftovers and recover from all of it, the 6th comes and decorations come down and the new year has begun. But no worries, we still bust out the charcuterie board for guests even if the holidays are gone!
Today I'd like to share my family recipe for Vanilla Crescent cookies or Vanillekipferl. All the women in my family made them, many still do. They come together easily and they are fun to shape, my 12 year old likes to help. It is ok if they are not all exactly the same, they will still taste delicious. One important ingredient for these is vanilla sugar. I use Dr. Oetker Vanilla sugar packets that I get at a local Croatian-Bosnian store or sometimes I even make my own Vanilla sugar by inserting Vanilla beans into regular sugar and letting it sit for awhile. Also, I've recently learned about vanilla powder and that is something that could definitely be mixed in with confectioners sugar as well. These cookies are incredibly delicious, they get better as days go by and I just love the taste of walnuts and Vanilla together. They are pure comfort and scream home and Christmas time to me! Here goes the recipe:
Vanillekipferl or Vanilla Crescents
Walnut crescent shaped cookies rolled in vanilla sugar
Ingredients
2 1/2

cups

all purpose flour

2

sticks butter + 2 tablespoons

1

generous cup ground walnuts

2/3

cups

sugar

1

tsp

Vanilla extract

1

egg white

1-2

cups

confectioners sugar (mixed with Vanilla sugar or Vanilla powder)

for rolling the cookies in

1

pack

Vanilla sugar (about 1 tablespoon)

to mix with confectioners sugar
Instructions
Mix butter with sugar for 3-4 minutes until light and fluffy then add rest of the ingredients. If it seems too dry, once you start working the dough with your hands the butter and walnuts will release more moisture and you will be able to shape the cookies nicely. I like to let the dough rest in the fridge (shaped in a ball, wrapped in plastic wrap) for about half an hour to an hour before shaping them.

Once you start shaping the cookies you take a part of the dough, roll out a big log thickness around and inch and cut it in equal little pieces. You will roll each again into a little roll about the size of your pinky finger or little thicker, then you give it it's final crescent shape and put onto a baking sheet. They don't really spread so you can fit a lot on one cookie sheet.

Bake them on 350 for 8 minutes, no more…or they will dry out. Let them cool just slightly before rolling them in vanilla confectioners sugar.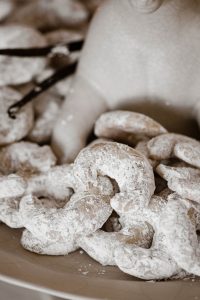 *photos of Zagreb and food stands are from the internet and by Julien Duval and Goran Stanzl