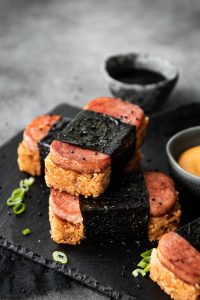 What is Spam Musubi?
Spam Musubi is a Hawaian food with Japanese influenece and I fell in love with it. We vacationed on the Big Island several time and we love eating all the fresh fish we can get our hands on. Tacos, Poke, fried, you name it. We also truly adore malasadas (even though there are many great fillings, empty ones are my favorite). But one thing that surprised me and that I loved so much was Spam Musubi. I never heard of spam before moving to the US and it has a bad rep if we are going to be honest. The salt content is questionable (but oh so delicious) and I just never had it. Until I tried Spam Musubi. Ok guys, I love spam and I don't care who knows it. And together with rice, especially in this version kimchi rice, OMG it is so good!!
For a little bit of history and education on the subject, here is a more authentic source where you can read about Spam Musubi. Mine is in no way, shape or form authentic. First off, I do not prepare the rice well, in fact, I use my leftover kimchi fried rice here. I just make sure I prepare it without bacon if I know I'll be making Musubi later. I also sometimes put the eggs under spam and sometimes I do not. While I was making the eggs for these photos, I burnt the eggs. And then saw those were my last ones, so here I am so profesh! Now you know. I do love them with the eggs though. I also like plain rice Spam Musubi, but not as much as the one with kimchi rice. Kimchi makes everything better in my opinion!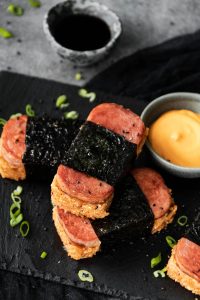 How to make Kimchi Spam Musubi?
You can use the spam can as a mold, I purchased a Musubi mold on the Big Island as a souvenir. Here is my recipe for the Kimchi Fried Rice. As I said, just don't add the bacon to the rice when making it. I still make the bacon on the side and once the rice is done I mix it with the part we are going to eat right then. But chunks of bacon in Spam Musubi would be weird I think, and would make shaping more of a challenge. I like to work with a day or so old kimchi fried rice at room temperature.
You put some plastic wrap on inside of spam can or mold and put a cut piece of seaweed that will "hug" the Musubi. Fill it up about 1 1/2′ to 2′ high with the rice. Next you fry up some sliced Spam and put it on top. If you wish you can make and egg omelette, just under 1/2″ thick and slice it in shape and size of spam and put it under. Put the ends of the seaweed together, like you are wrapping a package with ribbon tape. Once everything is nice, filled and tight, you carefully unwrap it and you have your Spam Musubi!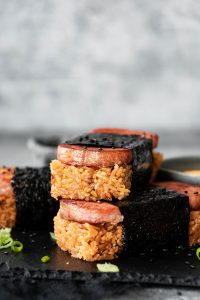 Spam Musubi
Hawaian Spam Musubi made with kimchi rice
Ingredients
1

can

Spam

Shoyu Sauce

2

cups

Kimchi Fried Rice

recipe linked above

seaweed

eggs

optional
Instructions
Slice the Spam in just under 1/2" slices and brown them in a pan on both sides with a little bit of Shoyu sauce.

Prepare your mold by putting plastic wrap on the inside, or rinse the Spam can and use that as your mold, also wrapping it with plastic wrap on the inside.

Cut your seaweed in 2 1/2" strips and insert the seaweed on the bottom of the mold, the idea is that you will wrap your Musubi "package" with it.

Fill the mold up with about 1/2 cup rice or 1 1/2-2" way up and then if using eggs put the egg layer on. I just make a single layer omelette with scrambled eggs and salt and cut it the same size as spam.

Put the Spam slice on top and wrap it with the seaweed ends. Press it all together then extract from the mold and unwrap from plastic wrap. Your Spam Musubi is ready!