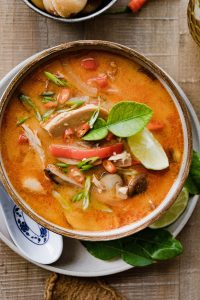 Thai Food
Today I am sharing Tom Kha Gai soup with you. But first, a fun fact about me. I've always dreamed of visiting Thailand. I was so sure I was going to visit there, and when I moved to the US and first tried Thai food, I was even more sure. But, it hasn't happened yet. And realistically, when we have nicer trips that are overseas, I want to go home to Croatia. So I don't know if it's meant to be. But me and Thai food were definitely meant to be! From the very first taste I had over 15 years ago it was LOVE!
I started with a quite simple and obvious choice, Pad Thai. But OMG the flavors. I was mind blown, very similarly to when I first had Indian food. I love everything I've ever tried. All the curries, the soups, the noodles. Thai basil is officially the best herb that ever was and I love making stir fries with it. So maybe if it's meant to be it will happen, right? There's still time. If you are also interested in more Thai recipes check these Panang Curry Noodles!
Tom Kha Gai
There are many blogs I draw inspiration from when cooking Thai food, like Rasa Malaysia. When I am cooking foods I didn't grow up with and that have new ingredients, I do some research. Funnily, while I still did that before making this dish, most instructions came from my brother who also loves this soup.
The soup is most simply put a Thai coconut chicken soup, but that description doesn't do it justice. It is bursting with the most amazing combination of flavors and he's been tweaking it for years. So, I made sure to get as good ingredients as I could and we were in business. I was able to get lemongrass, kaffir lime leaves and galangal from an Asian market in SLC. I have seen it available on Amazon too in case you don't have an asian market near you! Don't let the ingredient list scare you, this is a super easy and quick dish to make!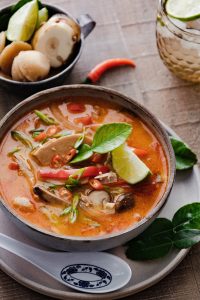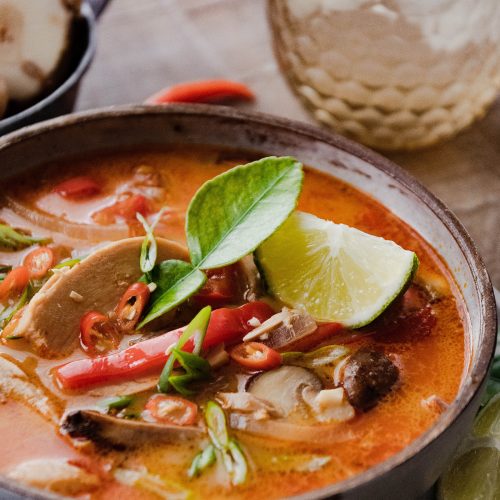 Tom Kha Gai
Thai coconut chicken Soup
Ingredients
12

oz

chicken breast

1

large red bell pepper

1

small yellow onion

6

oz

sliced mushrooms

coconut oil

5

cloves

garlic

2

cans

coconut milk

3

cups

chicken broth

3"

piece od Galangal

10

kaffir lime leaves

2

stalks

lemongrass

1

tbsp

Thai red curry paste

1

Thai chili pepper

2

tbsp

palm sugar

2

tbsp

fish sauce

1

lime, juiced

salt and pepper

Cilantro, green onions, lime and Thai basil for serving
Instructions
Slice the chicken into thin strips. Also cut the red bell pepper and onion into strips. Mince the garlic.

Cut the ends of the lemongrass off and then pound it down a little bit and cut in about 4" length. Peel the galangal and slice in 1/4" thick slices. Cut the end off of the chili pepper.

Heat up some coconut oil and add the chicken, red bell pepper and onions. Cook for 3-4 minutes then add the garlic and the mushrooms. Cook for another few minutes then add the red curry paste and cook stirringly for a minute before adding the chicken broth, galangal slices, lemongrass and kaffir lime leaves. Tear the leaves in two and bruise them a little bit because that releases the flavor better. Add the palm sugar and the chili pepper, fish sauce and juice of one lime and salt and pepper. Cook for 15 minutes. Add the coconut milk and cook for another 10-15 minutes. Check for seasoning then serve with herbs on top and extra lime juice if desired.