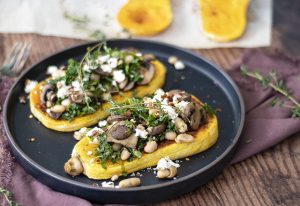 I'm always on the lookout for quick, healthy and exciting meals and this one is a winner! I've already made it a few times and I've played around with a few different version, one including ground sausage and one made with lentils. Today however I am writing about this mushroom, bean and kale version.
I adore butternut squash and mostly eat it in soup form, probably at least once a week during the season. I also roast it a lot with other veggies but I wanted to make it a more important part of the meal! So that is how I got the butternut squash steak idea. It is one I recommend for sure!
Butternut Squash Steaks with Mushrooms, Beans and Kale
1 medium butternut squash, skin pealed and cut into 1″ steaks – seeds removed
1 thinly sliced shallot
8 oz of cremini mushrooms
5-6 handfuls of chopped kale
1 15.5 oz can of cannellini beans
3 minced cloves of garlic
1/2 cup white wine
olive oil
few tablespoons of good quality maple syrup
1 Tbsp fresh Thyme
red pepper chili flakes
1 Tbsp of butter
salt and pepper
toasted pecans and crumbled goat cheese for topping
In a small bowl mix a little bit of olive oil with maple syrup and chili pepper flakes and generously brush the butternut squash steaks on both sides. season with salt and pepper and put on a baking sheet lined with parchment paper and bake on 385F for about 45 minutes or until golden brown, I like to flip them once half way through the baking and even brush on more maple syrup mixture if there is any left.
Sauté the shallots in some olive oil until they barely star to caramelize then add the garlic and cook for about 20 seconds. Add the thyme and mushrooms and cook for a few minutes before adding the kale.
Add the kale, season wth salt and pepper and cook until it softens slightly. Add the beans and the wine and cook until it reduces down. Finish with a Tbsp of butter, mix for a couple of minutes then spoon onto the roasted butternut squash steaks.
Top each with a little bit of toasted pecans and goat cheese crumbles. Bon Appétit!