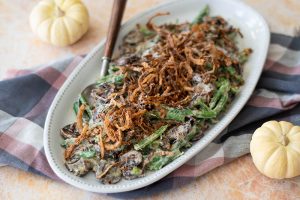 I love Christmas, I cannot wait for Christmas…but I have to admit that Thanksgiving is my favorite holiday and the dreaded green bean casserole is one of my favorite dishes, or it used to be. I kind of grew tired of the canned green beans and canned cream of mushroom soup so I didn't make it for a while, then I stopped whining and started making it from scratch. So here it is! it is sooooo yummy and I may or may not make it even when it's not Thanksgiving!
Creamy Green Beans with Mushrooms and Fried Onions
(or green bean casserole from scratch!)
1 yellow onion, thinly sliced
+ 1/2 yellow onion, diced
2-3 Tbsp flour
Canola oil for frying
12 oz green beans
8 oz sliced mushrooms
2 garlic cloves, finely minced
4 oz mascarpone cheese (I told you it was good!!)
1/4 cup grated Parmesan cheese +  2 Tbsp for sprinkling on top
1/2 cup heavy cream
pinch of freshly grated nutmeg
salt and pepper
Toss the onions with the flour, salt and pepper and fry in batches in some canola oil, I like it to be about an inch deep for this. You want them deeply golden brown. Transfer on a plate lined with paper towel.
Boil a big pot of water and cook the green beans in boiling water for five minutes. While they are cooking prepare the ice bath –  a big bowl of icy cold water. We want to shock the poor green beans 🙂 so they stop cooking and keep their beautiful green color. So, drain the beans and put them in the ice bath immediately.
Sauté the diced onions then add the garlic and stir for 30 seconds. Add the mushrooms and cook until they start to caramelize. Season well with salt and pepper. I find that waiting with salting the mushrooms gives them nicer color quicker. Now add the mascarpone cheese and stir until it starts to melt in then add the heavy cream and freshly grated Parmesan cheese and nutmeg. Add the green beans and cook for another minute and check for seasoning.
The last step is to take about a quarter of the fried onions and mix them in with the green beans and then arrange them on the serving platter. Grate some more parmesan cheese and generously top with the remainder of the fried onions. So, so good. You must try it!