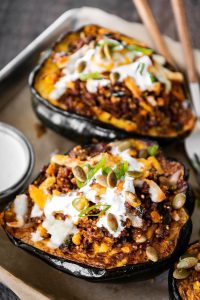 It is pumpkin and squash season in full swing and acorn squash is right up there among my favorite ones. It is easily available and I make it the most out of all of them during the cold months. I wanted to stuff it with something yummy and I just happened to have some chorizo sausage home so that was my starting point. I knew I wanted quinoa in it, I love quinoa and I honestly think it's a perfect thing for filling veggies. Poblano peppers, corn and cumin were the perfect combination with the chorizo and this turned out truly delicious! We enjoyed this dinner with a simple lettuce and vinaigrette salad on the side, and my boys had some garlic breadsticks too. It was an incredibly filling and satisfying fall meal.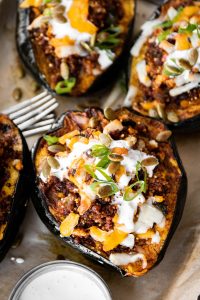 Chorizo and Quinoa stuffed Acorn Squash
Acorn squash filled with mix of quinoa, chorizo, poblano pepper, corn and cheese
Ingredients
olive oil

1

poblano pepper

1

ear of corn, about 1/2 cup

1

small yellow onion

1/2

tsp

garlic powder

1

tsp

cumin

1/2

lbs

chorizo sausage

1

cup

cooked quinoa

1

cup

Mexican style cheese blend, divided

salt and pepper

toasted pepitas, green onions and crema Mexicana for garnish
Instructions
Cut the acorn squash in half and clean out the seeds. Cut the smallest amount from the bottom of each squash to make it more even and easier for them to fill later. Brush it with some olive oil and season with salt and pepper. Put it on a baking sheet and bake at 375 degrees for one hour. Turn the squash cut side down the last 10-15 minutes

While the acorn squash is roasting, prepare your filling. Cook the quinoa according to the packaging. Cut the corn, dice the poblano and the onion.

Saute the onion and the poblano pepper in some olive oil for about five minutes, season with salt and pepper and remove from the pan so you can cook the chorizo sausage.

Add some more olive oil and brown the chorizo for about five minutes then add the onions and the poblano back into the pan. Add the corn, the garlic powder and the cumin. Cook for about five minutes and then mix in the cup of quinoa and 1/2 cup of cheese. Mix well and check for seasoning, adding more salt and pepper if needed.

When the acorn squash is done baking, remove it from the oven and dividing the filling in four, stuff each acorn squash then sprinkle the remaining cheese on top.

Bake in the oven for ten minutes at 400 degrees.

Top with green onions, toasted pepitas and some crema Maxicana and enjoy!