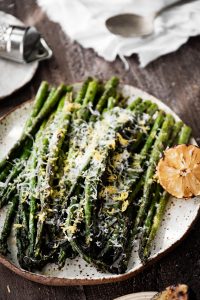 First things first, I'd hardly even consider this a recipe, but these grilled asparagus are too good not to share. I've learned that we all have our favorite ways of eating veggies and sometimes we just don't even think of changing it up and doing something different. Since Thanksgiving is almost here and Christmas is not that far away either, I wanted to share with you a few of my favorite veggie sides. these asparagus I eat all year long but it goes great with turkey and prime rib or any kind of meat!
During the warm months I grill them on the grill outside and when it gets colder, I cook them on my grill pan. The seasonings couldn't be simpler, salt and pepper, good olive oil, lemon zest and juice and some Parmesan cheese on top. I actually don't even need any meat. Just give me these grilled asparagus!
Grilled Asparagus
Grilled asparagus with olive oil, lemon zest and Parmesan cheese
Ingredients
2

bunches

asparagus

olive oil

salt and pepper

1

lemon, zest and juice

freshly grated Parmesan cheese
Instructions
Wash the asparagus and dry well. Cut a couple of inches from the end where the tough part is. I usually bend one asparagus and see where it naturally breaks and that is where I make my cut with the rest of them.

Toss with olive oil and season with salt and freshly ground black pepper.

Grill on the pan for 8-10 minutes until you have nice grill marks but there is still some bite to the asparagus. Transfer on a plate and drizzle with some more olive oil. Zest a lemon on top and squeeze some lemon juice on top too. Finally, finish with freshly grated Parmesan cheese.