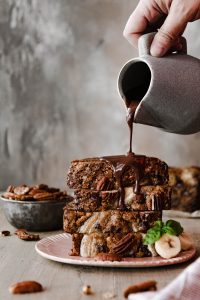 How do we feel about Banana bread?
And here I am, finally posting a banana bread recipe. I never posted it before because I feel like everyone already has their version. When people ask me about banana bread recipe, which seems like all the time, I usually just tell them to make Bon Appetit one. That is what I adapted my recipe from anyway! It started with me following it word for word. One day my boys asked for more chocolate and please no nuts (lol!). Then I had an extra banana so five went in and I split it between two loaf pans. Then I added just a bit more this or that and here we are. So it was time to type this up. I have to say I did not really like banana bread before this recipe. But this one makes a beautiful, moist loaves and they are packed full with chocolate chips, and I mean, who wouldn't love that!? There is also this older banana and nutella bread I made years ago, if you are a nutella lover you might want to try that one!
Pandemic Baking
I feel attached to banana bread after this year. That first month of pandemic and lockdown it seemed to have been the first thing people started mass making. It was one of the first and many to come popular food trends. We went through banana bread, sourdough, dalgona coffe, pancake cereal, all the way to feta cheese pasta. I've done and loved them all. So I am grateful for them. As I am for my kitchen and comfort and safety it has given us over the last year. I feel I've created some wonders in it this past year and I loved sharing them with you so much! Instagram has also been a big motivator for me! If you already are not following me, I am @mogwaisoup on there and I'd love to say hi!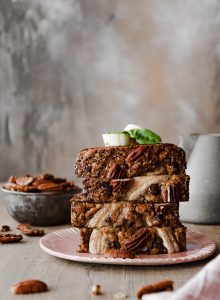 Banana bread
Moist and chocolatey banana bread
Ingredients
2

cups

flour

5

large very ripe bananas

or 6 medium

1

cup

brown sugar

5

oz

greek yogurt

1/2

cup

butter

3

large eggs

1 1/2

tsp

baking soda

1

packet

Vanilla sugar

(or 1 1/2 tsp vanilla extract)

3/4

tsp

cinnamon

1

tsp

salt

1 1/2

cups

semi-sweet chocolate chips

plus more for the top if desired

turbinado sugar
Instructions
Preheat the oven to 350 degrees. Prepare two loaf pans by lightly spraying them with non stick spray, then lining them up with parchment paper and spraying them again.

Beat together brown sugar, vanilla sugar if using and butter until light and fluffy, then add yogurt and eggs to it (and vanilla extract if using). Mix until combined. In a separate bowl whisk together the flour, baking soda, salt and cinnamon. Add it to the mix and blend just until combined.

In a separate bowl mash the bananas well and then add them to the batter, also mixing just until combined. Add the chocolate chips and mix them in with a spatula, then evenly divide between two loaf pans. I like to add some extra chocolate chips on top of the bread and then I generously sprinkle everything with turbinado sugar. Sometimes if I have extra bananas I split them in half lengthwise and put on top before I sprinkle the chocolate chips and the sugar.

Bake for 60-65 minutes until an inserted toothpick comes out mostly clean with just some moist crumbs on it.