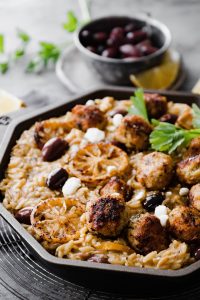 I got the idea for these Greek Meatballs with Lemon Orzo from a post online. It was a beautiful one skillet dish made with lemon slices, orzo and salmon. But I really don't love salmon. It sucks and I kept trying to figure out if I should try making it with cod, but my mind just went elsewhere. I decided to do chicken and feta meatballs and boy am I glad I did that! I really made sure to put enough flavors into those meatballs because there's nothing worse than bland meat! There is nothing remotely bland with this dish. It's such a joy to enjoy something you make, and more than that, watching someone else love it. Boys crushed this! Well, my younger one got insulted by lemon slices with peel on and asked if he was supposed to eat it. I told him it's totally up to him, so he gifted them to me, ha!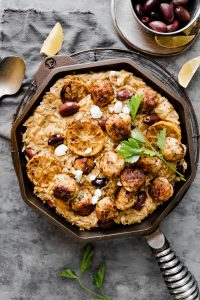 This dish comes together quickly
You chop up the garlic, shallot and parsley and add it to the meat with some panko bread crumbs. They will help bring some moisture to the meatballs as well. You add some seasonings and fry them up in a cast iron skillet. Then you cook the lemon slices which along with the wine help get all the browned bits up and you cook the orzo in it. Before it is all done you add some feta, olives and oregano to the pan, as well as some more lemon juice. It's really a gorgeous bright dish! This time I served it on top of beautiful homemade hummus and fresh warm pita bread. Oh boy.
If you are a fellow meatball lower, here is another recipe you might like. I haven't made these classic meatballs with spaghetti in ages so I better hurry as well, my boys adore this one too! Scroll down for these Greek Meatballs with Lemon Orzo.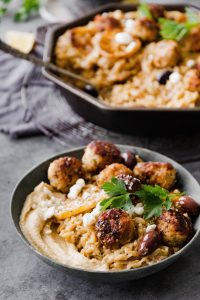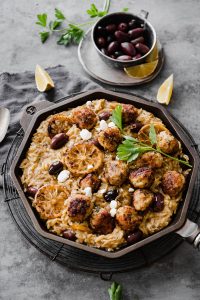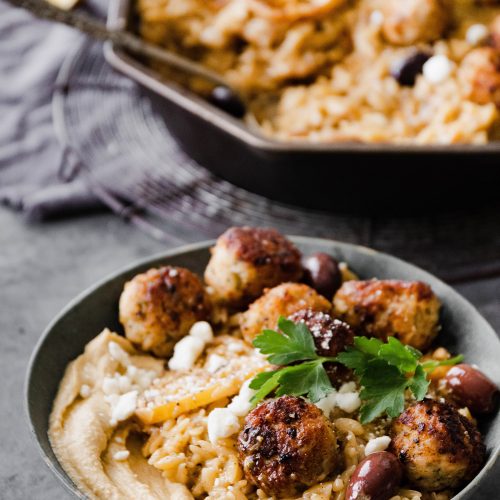 Greek Meatballs with Lemon Orzo
Greek Meatballs with Lemon Orzo
Ingredients
For the Meatballs
1

lb

ground chicken

1

shallot

4

cloves

garlic

1/4

cup

parsley, minced

zest of one lemon

reserve juice for orzo

1

egg

1/2

cup

panko

1/2

cup

feta cheese

3

tbsp

Greek yogurt

1

tsp

dry oregano

salt and pepper

olive oil
For the Orzo
1

lb

Orzo pasta

2

lemons, sliced

juice of one lemon

1/2

cup

white wine

3 1/2-4

cups

chicken broth

1/2

cup

Kalamata olives

1

tsp

dry oregano

2

tbsp

heavy cream

1/2

cup

feta

salt and pepper

olive oil

more parsley and feta for garnish
Instructions
For the meatballs
Mince shallots, garlic and parsley and crumble the feta cheese. Saute the shallots in a large pan with some olive oil for about 5 minutes then add the garlic and cook for another minute. Add shallots and the garlic to the chicken and mix. Add all of the rest of the ingredients and mix well. Take about one heaping tablespoon worth of meat (I use a tablespoon size cookie scoop for this) and rub it between your oiled hands to form meatballs. Cook in the same pan shallots cooked in with some olive oil in it and brown on all sides. Cook for 8-10 minutes in total then take out of the pan and set aside.
For the orzo
Slice two lemons and discard the pits. Brown them on both sides in the same pan meatballs cooked, this takes just a few minutes. Set them aside with the meatballs then add some more olive oil to the pan and add the orzo. Toast the orzo in the pan for 2-3 minutes then add the white wine and cook for another few minutes making sure the scrape all the brown bits from the bottom of the pan and cook until the wine starts to evaporate. Add the lemon juice, 3 1/2 cups of chicken broth, Kalamata olives, dry oregano and salt and pepper and cook until orzo is al dente, occasionally stirring. This will take 8-10 minutes. Once It is cooked, stir in the heavy cream and the feta and garnish with some chopped parsley and more crumbled feta. Serve with meatballs on top and if desired with hummus and fresh pita bread on the side. I also love cherry tomatoes on the side, it's simple, fresh and brightens up the meal even more. We eat this family style, pan on the table and serve directly on the plates, my favorite way to eat.