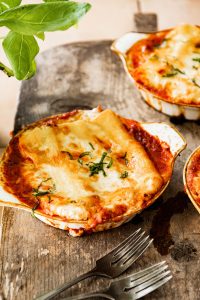 This Italian Sausage and Ricotta Cannelloni are seriously a must try! I very rarely do stuffed pasta dishes, mostly because I always thought they were complicated. But it wasn't, and it was such an enjoyable process too. My inspiration for this dish was a restaurant in Moab we love, Pasta Jays. It is our favorite restaurant and one of the only Italian restaurants in the US that I've tried and love. We have never had a bad dish there and if you're ever in the area, try it out! Another dish I made that was inspired by Pasta Jay's is my Creamy Pesto Gnocchi!
The Italian Sausage and Ricotta Cannelloni dish is made with cannelloni pasta that I pre-boil for 4-5 minutes. Then I stuff it with whipped ricotta cheese mix. I sometimes can be slightly bothered by ricotta texture. I feel it can be grainy so if I'm using it to stuff pasta, I like to blend it. Its a small step and you can skip it if you want to. It will still be absolutely delicious. They are nestled into a yummy Italian sausage and tomato sauce and topped with extra cheese. It is all baked to perfection, and I do mean perfection. I've already made it again with jumbo pasta shells because they were what I had home and can be easier to stuff. It is such a great combination and I hope you try it!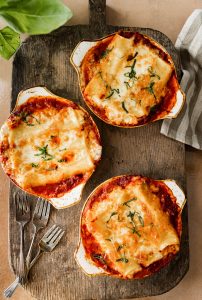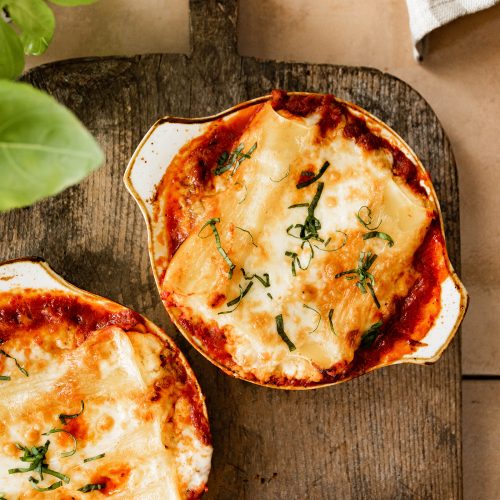 Italian Sausage and Ricotta Cannelloni
Cannelloni pasta stuffed with a sauce made with Italian sausage and ricotta cheese
Ingredients
1

pack

cannelloni

24 pieces

olive oil

1

large yellow onion

1

cans

crushed tomatoes

28oz

1

tbsp

sugar

1

tbsp

Italian seasoning

8

cloves

garlic

8

large fresh basil leaves

salt and pepper

8

oz

shredded Mozzarella

half and half
For the cheese filling:
32

oz

Ricotta cheese, full fat

3/4

cup

Parmesan cheese

1

tsp

garlic powder

salt and pepper
Instructions
Dice the onions and heat up some olive oil in a large pot. Cook the onions for five minutes then add the garlic and cook for another minute. Add the Italian sausage and cook until nicely browned then add the crushed tomatoes, sugar, garlic powder, salt and pepper. Cook stirring occasionally for 25 minutes.

While sauce is cooking pre-boil the pasta for about 4-5 minutes. Transfer it on a baking sheet in a single layer and using a pastry bag or a zip lock bag with the tip cut off, fill the cannelloni. I go half way on each side. To make the cheese mixture just put all of the ingredients: Ricotta, Parmesan, salt, pepper and garlic powder, into a food processor and blend for a couple of minutes. You can also just mix the ingredients in a bowl and transfer to the bag.

I used separate baking dishes but you can also use one single large baking dish. Fill the dish you are using generously with the Italian Sausage and tomato sauce then nestle the cannelloni in more than halfway submerged into the sauce. When they are all arranged add just a bit of half and half to the top of pasta and sprinkle generously with mozzarella cheese.

Bake covered on 375F for 30 minutes then uncover and bake another 10-15 minutes on 450F.