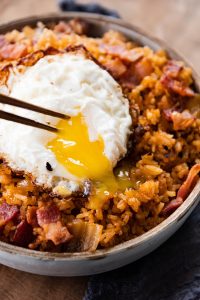 Have you ever had kimchi fried rice?
My family tried kimchi fried rice for the first time several years ago on Hawaii and we've been making it ever since. I love to make mine with bacon and I always put a fried egg on top. It's such an amazing combination of flavors and that yolk combined with bacon and rice is just so good.
I make mine very simple and I always use a day (or two) old leftover rice. We have a rice cooker and I always make a big batch of rice when I cook it so I can have leftovers for fried rice. I make many different versions, like this Hawaian fried rice or the ham and edamame fried rice, but this kimchi fried rice might my husbands favorite! If fried eggs are not your jam, you can totally scramble the egg and incorporate it into the rice in a more traditional way. For this dish however, we really love the fried egg on top, that yolk is everything. My son always asks for the extra fried egg or two, he is totally obsessed and I totally get him!
What we like to eat in Croatia
Also, did you know I used to almost never eat rice back home in Croatia? I'd say most popular starch in Croatia are potatoes and breads. Then pasta and lastly rice. I liked rice well enough when we would occasionally eat Asian food. My mom would make it once or twice every couple of month tops, usually in a risotto. It was only when I moved here that I began seeing it much more everywhere I went. Even ten years into living here rice was still not all that to me and I much preferred pasta and potatoes to it. However, slowly it grew on me and I eat it several times a week now in many forms and I absolutely love it. I can't imagine not having rice regularly anymore, and I love all different types of rice too.
K, glad I got that off my chest. Now please go make this kimchi fired rice! 🙂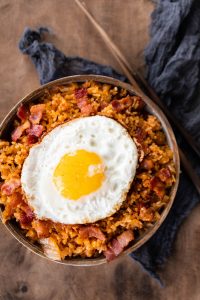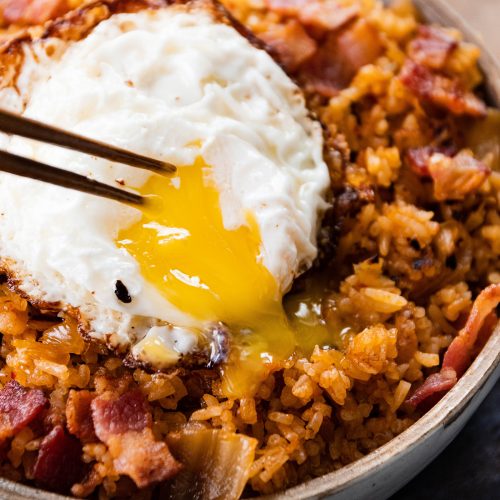 Kimchi Fried Rice
Fried rice with kimchi, bacon and fried egg on top
Ingredients
5

cups

leftover white rice

2

cups

kimchi

1/3

cup

kimchi juice

1

small onion

6

cloves

garlic

2 Tbsp

tbsp

sesame oil

4

tbsp

soy sauce

5

slices

thick bacon

4

large eggs

salt and pepper

1

tbsp

canola oil
Instructions
Cut the bacon in small pieces and fry it up in a tablespoon of canola oil in a large pan or wok. When it is nice and crispy take it out of the pan and set aside. Dice the onions and add them to the bacon fat and saute for about five minutes. While the onions are cooking, cut the kimchi into small pieces. After onions have been cooking for five minutes add sesame oil to the pan and then the kimchi. Mince and add the garlic and cook for about ten minutes. Add back the bacon and season with salt and pepper. Add the rice, soy sauce and the kimchi juice. Fry the rice for 4-5 minutes then serve with crispy fried egg on top and if you wish, garnish with green onions.