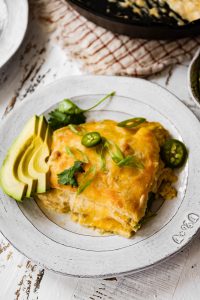 This Chicken Enchilada Lasagna is an oldie but a goodie guys! It is from the very beginning of my journey with blogging from over ten years ago. This is the old post with original photos and I have to say, I still love them! It was simpler times when I was not obsessing with photos or the props. I didn't even know what a photo backdrop is and I thought neutral plates were so sad! Ahh the good times. There was no instagram then and pinterest was brand new, this post exploded on there. Dare I say, it went viral. I wish I was getting that kind of interest now, seriously. I swear, I don't know what pinterest (or instagram) want from me. I could complain for three days but I will spare you, you're welcome.
This chicken enchilada lasagna also happens to be one of my husbands absolute favorite dishes. I got the recipe from my sister-in-law Andrea and I don't make it too often. Why? Because my husband can't stop eating it. He easily eats the whole pan on his own and it isn't exactly the healthiest dish. I mean it has five cups of cheese in it! Every single bite is worth it though. It isn't a spicy dish, however, if that's your jam you can totally make it with added spicy green chillies or poblanos for a little kick, or add hot sauce. I love to top it with a dollop of sour cream, cilantro and avocado, some green onions and jalapenos are also great to add. Hard part of this dish is honestly making yourself stop eating it. It's creamy, cheesy and absolutely delicious, I sure hope you try it!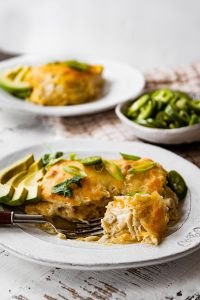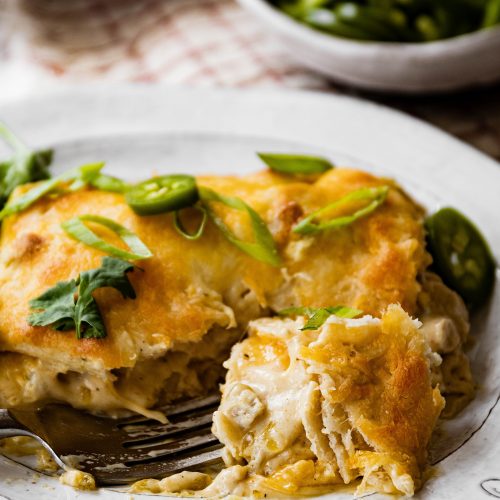 Chicken Enchilada Lasagna
Chicken enchiladas made lasagna style
Ingredients
1

lbs

chicken

I like to use rotisserie chicken for this

1

can

cream of chicken

1

can

cream of celery

1 1/2

cups

sour cream

1

cup

canned green chillies

mild or spicy

5

cups

shredded Mexican style cheese

small corn tortillas

1

tsp

cumin

salt and pepper
Instructions
I like to use rotisserie chicken for this, It is super quick and flavorful, I just shred the meat after removing from the bone and I do not use the skin.

In a bowl mix together cream of chicken and celery, sour cream and cumin and then season it with salt and pepper.

Preheat the oven to 425 degrees.

In a large casserole dish start layering by putting little of the sour cream mix on the bottom and spreading it, then top it with a layer of tortillas. Top the tortillas with a layer of sour cream mix then some chicken and about a cup of cheese. Repeat two more times and then top with last tortillas, smooth last of the sour cream mix on and finish with 2 cups of cheese.

Bake in the oven for about 15-20 minutes until cheese is fully melted and it starts getting golden brown. Enjoy!