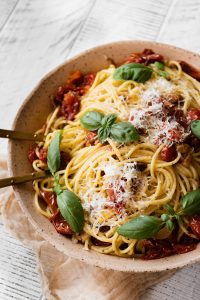 My love for pasta is never ending and this Pasta with Slow Roasted Tomatoes is one of my favorites!
Love of pasta
Other than this pasta with slow roasted tomatoes, I grew up eating some kind of pasta almost every day. My dad doesn't cook, but even he did a few of my favorite pasta dishes. I loved his Gorgonzola sauce tortellini the most (recipe coming soon), whenever we had that for dinner I totally freaked out, it's just so good! Some of the favorites my Mom made were her tomato sauce spaghetti. We call the sauce šalša, it's basically marinara sauce, but you will never find a jarred sauce so good! I have an old post here for it, but I need to make it in a smaller batch and with canned tomatoes so it's easier to make for everyone. Another favorite my Mom made was homemade gnocchi, oh my goodness is there anything better!?! She made it with meat ragu and I have that recipe here for you. I started also making them with creamy pesto sauce, they are amazing! Seems like we can never make enough.
Last favorites I'll mention so I don't go on and on forever is Spaghetti alla Vongole, and spaghetti in a creamy pepper sauce with bacon. We ate spaghetti more than any other pasta shape, even though I truly love them all. Well, with the exception of angel hair pasta. That just doesn't work for me, wrong texture – too thin. That is the only negative thing I'll ever say about pasta, lol. Today though, I want to tell you how I make this pasta with slow roasted tomatoes.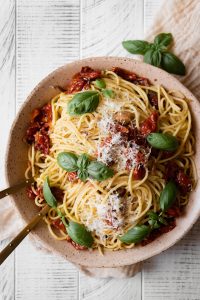 Pasta with Slow Roasted Tomatoes
First we have to talk about what kind of tomatoes to use. Obviously, if it's tomato season, use nice and very ripe tomatoes, I love to buy a ton on farmers market and make a big batch of this. I jar the sauces into servings and cover them with olive oil and they can keep for a couple of months in the fridge. Rest of the year I use Roma tomatoes or tomatoes on vine, sometimes cherry tomatoes. While not as glorious as ripe tomatoes in season, this is still absolutely amazing and so flavorful because of the way we are going to roast them. All you need is tomatoes, onions, garlic, herbs and good olive oil. Oh, and some patience, it takes time to slow roast them!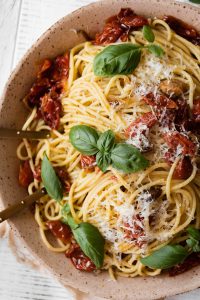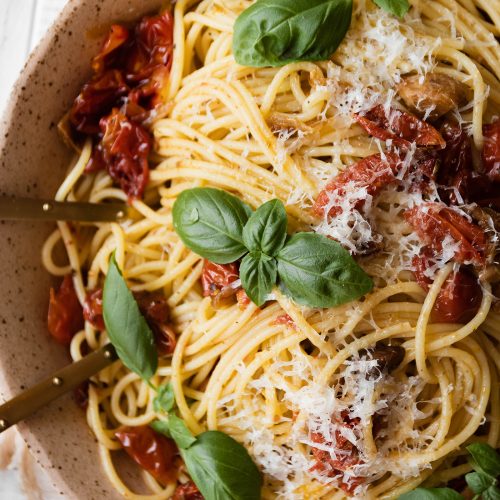 Pasta with Slow Roasted Tomatoes
Spaghetti with oven Slow Roasted Tomatoes
Ingredients
3

lbs

tomatoes

Roma, tomatoes on vine and cherry tomatoes all work

1

large yellow onion

10

cloves

garlic

2

tbsp

fresh thyme

2

tbsp

fresh rosemary, finely chopped

olive oil

salt and pepper

1

lbs

spaghetti

fresh basil

Parmesan Cheese

freshly grated
Instructions
First thing you can do is boil a big pot of water and put the tomatoes in for 1-2 minutes then take them out and peel the skin. This isn't absolutely necessary and I actually skipped it this time. I don't mind an extra bite from the skin, so feel free to skip this step.

Cut the tomatoes in large chunks. Slice the onion and smash the garlic cloves. Chop all of your herbs. Put a good amount of olive oil in a large baking pan/dish then put in the tomatoes, onions and garlic, Sprinkle all the herbs on top and season well with salt and pepper. Mix everything well together and make sure you have enough oil. Yes, you will need a lot, don't be scared. It will become amazing part of the sauce, flavored with all the ingredients. Basically the whole bottom of the pan should be covered with either tomatoes and onions or oil. We don't want to see any of the bottom of the dish.

Slow roast on 300 degrees for about 2 1/2-4 hours, mixing it around every hour. It will kind of depend on your tomatoes and how big they are. Once everything is getting really nice and caramelized, it is done. We don't want burnt parts, but we do want really good caramelization, that is where the flavor is at.

When the tomatoes are almost done, bring another pot of water to boil and salt generously. Cook the pasta al dente and then mix with as much sauce as you like. I like to be generous with my sauce but my kiddos prefer not too much of it, you do you.

Top with some fresh basil and freshly grated Parmesan Sauce