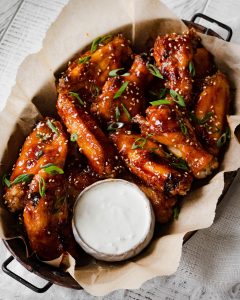 These Honey Sriracha Wings are my favorite wings for sure. It was brought to my attention that Super Bowl is coming so I just want to quickly share with you this favorite recipe. It is perfect for game night or any other night since we honestly don't really watch football. They are oven baked and perfect mix of sweet and spicy! I want to try making them in my Instant Pot Air Fryer too and see how they turn out. For now though, I love the oven baked method. If I try the air fryer I will update the recipe with that method as well. These honey sriracha chicken wings are one of those dishes that we all love and kids keep coming for more. It is incredibly easy to make too. While the wings are baking in the oven, you just throw all the sauce ingredients into a sauce pot. You simmer it for a few minutes and then just baste the wings for the last 10-15 minutes of baking. My kiddos can handle some spice, but you can easily half the amount of sriracha in this to make them slightly milder. So let's jump into this!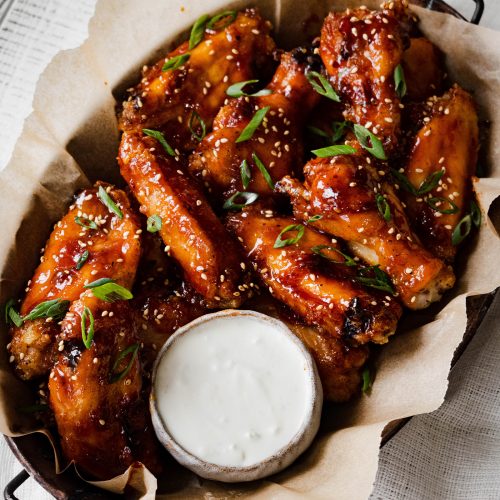 Honey Sriracha WIngs
Sweet and spicy honey sriracha wings
Ingredients
2

lbs

chicken wings

1/2

cup

honey

1/2

cup

Sriracha

2

tbsp

sesame oil

3

tbsp

soy sauce

1

tbsp

rice vinegar

salt and pepper

canola oil

green onions and sesame seeds for garnish
Instructions
Toss the wings in a little bit of canola oil and arrange on a baking sheet. Season with salt and pepper and bake on 400 degrees for 30 minutes.

While the wings are baking, prepare the sauce. Put honey, sriracha, soy sauce, rice vinegar and sesame oil in a sauce pan and bring to a boil.

After 30 minutes brush on the honey sriracha sauce on both sides of the wings and then bake for 10-12 more minutes brushing more sauce every 2-3 minutes. Finish them off with one last brush of the sauce, then garnish with some sesame seeds and green onions.
What do you usually make for game night?
We watch Super Bowl mostly for commercials if I'm honest. We just aren't a sports family, my boys do like basketball and I love watching soccer. But commercials and a good spread of food and count us in. I feel bad even saying it haha. This year we are having two types of wings, hot dog stuffed pretzel balls and I use this recipe for the pretzel base and chicken tikka meatballs. I am also making a veggie spread with homemade avocado hummus and laugh all you want, mini cream cheese cucumber sandwiches. Yeah, yeah, I know it's Super Bowl and not tea party but they are good! It's great finger food, I'm telling you.