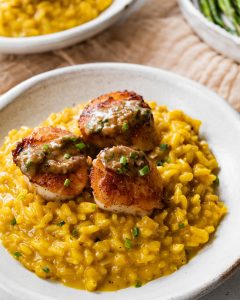 How do we feel about Valentine's?
Valentine's Day is fast approaching and these Scallops with Risotto alla Milanese are a perfect dish to celebrate. Good news is that this dish isn't hard to make at all and it looks fancy and sexy! Make this for your SO or yourself (you deserve it) and you will feel like a rockstar. I'm not big into Valentine's Day, it's way too commercialized and also it makes a lot of people feel like crap so I think it's a great day for showing self love as well. Whatever that is for you. Buy yourself a gift. Treat yourself to a special dinner, or make one! I'm ordering myself flowers.
Self love is important too!
Yes. My hubby is great, but I want to get myself flowers this year because I know what I want, even though I know he will show up with a rose too. I will order the exact flowers that I love because I am practicing more self love this year. This can be incredibly hard for people, and for many reasons. I wasn't always treated the best and I can be so self critical, so I didn't make any real new year's resolutions but I did promise myself that I was going to practice more self love. And I am using this Valentine's Day to celebrate both my love for my husband, myself, and everyone else in my life I am grateful for. Including my boys. I really think it's time we redefine Valentine's Day a bit. It's 2021. Wow I totally went off in the wrong direction there. Why are we even here? Oh, these beautiful Scallops with Risotto alla Milanese!
My older son loves seafood, and both me and my hubby love scallops. As a matter of fact, they are Chris's favorite and I like to pamper all of my boys. Dino, my youngest, is the worlds pickiest eater anyway, so I predict no scallops for him. But he will love this risotto. Why do I know? Well, it's delicious, and he already tried it when I test made it and took these photos ha!
I enjoy the process of making the risotto
You do not have to literally stir the whole time, but you do need to stir it quite a few times. However, it's a calming process for me and I'm usually by the stove or in the kitchen preparing other parts of the meal too. Like in this case, searing the scallops. And that shallot and white wine sauce on top, oh it's so good!! So let's get to it. This is one of my favorite pans and the one I always use when making risottos. It was definitely and investment piece, but I snagged a good deal a few years ago for Black Friday!
Oh, one more thing, if you are not a fan of seafood, here is my all time favorite risotto with meat ragout. It most definitely needs new photos, but the recipe is perfect!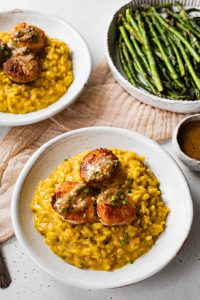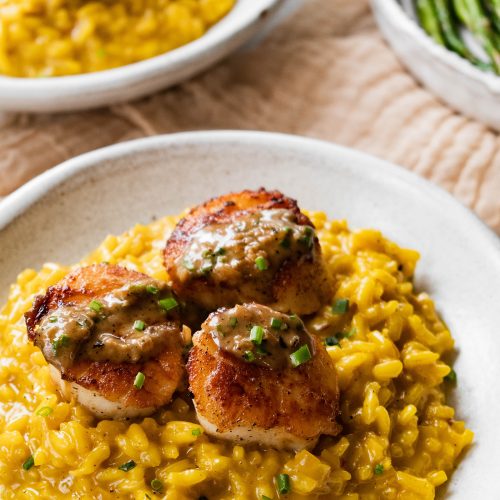 Scallops with Risotto Milanese
Seared scallops in shallot and white wine sauce with creamy Saffron risotto
Ingredients
For the scallops:
12

large scallops

olive oil

4

cloves garlic, minced

1

shallot, minced

1/2

cup

dry white wine

4

tbsp

butter

salt and pepper
For the risotto:
2

cups

arborio rice

4

cups

vegetable or chicken broth

make sure it's hot

2

shallots, diced

1

cup

white wine

1

cup

freshly grated Parmesan Cheese

1/2

tsp

Saffron

4

tbsp

butter

salt and pepper
Instructions
For the Risotto
Heat the broth with Saffron in it. Finely dice the shallots and add them to a pan with some olive oil. I like to use my large braiser pot for this, it is nice and wide and deep. Cook the shallots for about five minutes then add the arborio rice to the pan. Cook for about two minutes, constantly stirring.

Pour the wine in and cook for another couple of minutes until the rice absorbs it, then slowly start adding the broth. The broth needs to be hot and you need to stir it often, but just a few stirs and then you are good for a minute or two. Make sure your heat is medium to medium low. Season with salt and pepper and keep adding the broth as soon as the rice soaks up almost all the liquid. Cook for about 20 minutes until rice is perfectly cooked, still has a bite to it and it isn't too mushy. You will probably use up most of the broth and might even need a bit more. Once the rice is perfectly cooked turn the heat off and add the butter and the Parmesan cheese. Mix well.

Top with scallops and enjoy!
For the scallops:
While the risotto is cooking preheat a cast iron skillet and cover the bottom with some olive oil. Dry the scallops with a paper towel and season with salt and pepper. Sear them in the pan for about 2 minutes on each side, until they get a nice golden brown color. Don't crowd the pan, I did mine in two times.

While the scallops are searing, mince the shallot and the garlic. Little reminder, don't forget to stir the risotto. Once the scallops are cooked add a bit more oil to the pan and the shallots and cook them for 3-4 minutes, scraping at the bottom of the pan, add the garlic and cook for another 30 seconds then add the wine and deglaze the pan. Cook for a couple of minutes then add the butter and turn off the heat. Stir for a minute then pour over the scallops. Serve immediately.