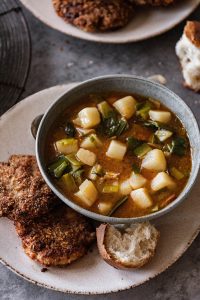 This leek and potato soup with fried ground meat patties is funnily one of my favorite childhood meals. Why funnily? Well this is a classic dish in Croatia, lovingly called peasant food. Also known as best food in the world if you ask me. But not many kids love it. I'd actually say that most kids dreaded Poriluk day, poriluk is our name for leeks and we simply call this soup poriluk. My brother wouldn't touch this soup with a stick when we were little, and it was my fave. Now he loves it too! It varies from household to household how you make it, some people prefer to cook it with sausage, and some people make these fried ground beef patties on the side that we call Faširanci. My mom and grandma did it both ways, but I will always choose the patties if I can. Another thing a lot of people use in Croatia in general is Vegeta seasoning, it has a very specific taste but I like using vegetable or chicken broth better, than seasoning it up myself.
So what is in it?
I start my leek and potato soup with some thick bacon slices cut into one inch pieces. When they are nicely browned I add the leeks and saute for a bit, before adding the broth, potatoes and rest of the ingredients. As for the fried beef patties, I use both pork and beef and I saute some diced onions and garlic, add some stale bread soaked in milk and an egg. Add a few seasonings, shape them into patties, roll in bread crumbs than I quickly pan fry them. They are so good and incredible with almost any kind of veggie soup! They would go great with this simple chickpea soup.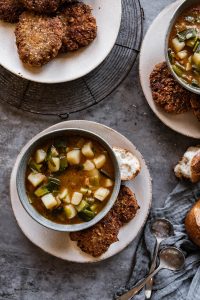 Leek and Potato Soup with Fried Ground Meat Patties
Croatian Leek and Potato Soup cooked with bacon and served with Fried Ground Meat Patties
Ingredients
For the Soup
canola oil

3

medium leeks

3

Russet potatoes

4

slices

thick bacon

4-6

cups

chicken broth

1

tsp

ground sweet paprika

1

tsp

garlic powder

salt and pepper
For roux
3

tbsp

canola oil

3

tbsp

flour

pinch

ground sweet paprika
For Fried Meat Patties
1

lbs

ground beef

1

lbs

ground pork

3

slices

stale white bread

1/2

cup

milk

1

small yellow onion

1

egg

4

cloves

garlic

salt and pepper

bread crumbs
Instructions
To make the soup
Cut the leeks once lengthwise, then in 1 inch wide half moons. Soak in a big bowl of water, mixing it well with your hands to clean it from any dirt that's stuck between the leaves. Don't pour the water out but scoop the leeks with your hands from the top of the bowl and transfer on a kitchen towel and pat dry.

In a large Soup pot heat up some oil, slice the bacon in 1 inch chunks then brown in the pot. When bacon is cooked add the leeks to the pot and saute for about 5 minutes, stirring occasionally. Now add the broth, paprika, garlic powder and season with salt and pepper.

Peel the potatoes and cut them in small bite size pieces then add to the soup and cook about 30 minutes.

While the soup is cooking, prepare the roux, it only takes a few minutes. In a small pan heat up the canola oil and add flour and pinch of paprika to it. Stir constantly for 2-3 minutes until the flour browns then turn off the heat.

I add 1-2 tablespoons of roux to the soup in the last five minutes of cooking. It depends how thick you like it, I find a heaping tablespoon is perfect, I do not like it too thick.
For the Fried Meat Patties
Mix the ground beef and pork in a large bowl. In a separate bowl pour milk over torn pieces of bread.

Finely dice the yellow onion and saute in a pan with little oil for 5-7 minutes. In the last minute add minced garlic to the pan.

Add the onion and garlic to the meat, as well as the soaked bread and mix. Add the egg, season with salt and pepper and mix until everything is well combined.

Take palm fulls of mixture in your hand and shape into patties, then roll them well into the bread crumbs. Fry in a pan with canola oil about 5 minutes per side, until they are nicely seared.

Serve the soup with patties on the side, as well as some good bread.