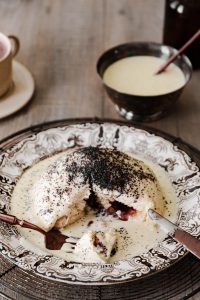 What is Germknödel?
Well, Germknödel is Austrian magic. It is a giant fluffy yeast dumpling filled with plum jam. Traditionally it's spiced plum jam with star anise, but I used my homemade plum jam and it was truly amazing. Both the Germknödel and my jam are amazing! The Germknödel is served in vanilla sauce and is topped with mix of sugar and poppyseeds. It is heaven, if you've never had these you absolutely have to try them, they are steamed and not that hard to make, but worth every single minute of effort. Dough comes together easy and it's beautiful to work with, like with many other yeast doughs, most time will be spent waiting for the dough to proof. While this is happening, you can prepare the vanilla sauce. This is the paste I use for it, but you can also use Vanilla bean pods.
Where can you get one?
I have never seen this in the states. I personally haven't had them in many, many years. Like over 25 years at least. We used to get them in Austria, specifically at ski resorts. There is nothing quite like coming in from the freezing cold and enjoying this incredible treat. Nowadays I see photos of friends from Croatia also enjoying Germknödel at our ski resorts and I was so jealous. Until I made my own. These are going to be made often, and enjoyed by all. Kids are already begging me to make them again! If you are into this type of dessert, check out my apricot filled potato dumplings! Also, this is the Vanilla sugar I use. I bulk buy it and use it in many cakes, I prefer it to the Vanilla extract. Here are the steamer baskets I have. The baskets came with the pan I got from the same brand and I like that they are slightly taller than the ones from Amazon!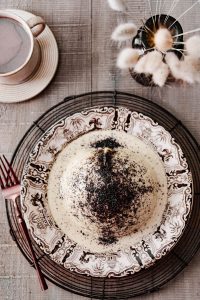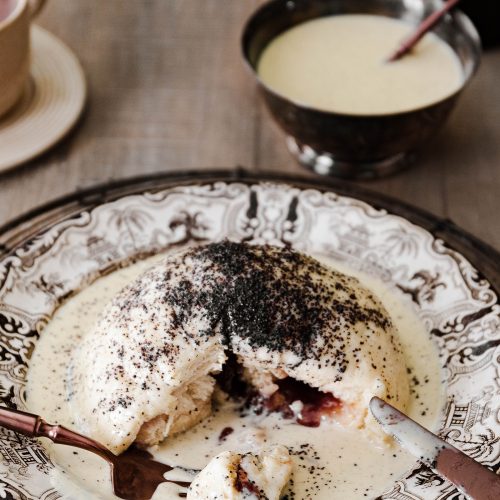 Germknödel
Austrian yeast dumpling filled with plum jam and served with vanilla sauce, sprinkled with poppyseeds
Ingredients
For the Germknödel
300

g

flour

plus more as needed

1/2

cup

milk, warm

1 1/2

tsp

active dry yeast

3

tbsp

melted butter

1

egg

1

egg yolk

pinch of salt

3

tbsp

sugar

plum jam

I used about 1/2 cup

2

Tbsp

Poppyseeds

1

bag

of Vanilla sugar
For the vanilla sauce
1

cup

milk

1

cup

heavy cream

4

egg yolks

1/4

cup

sugar

1

tsp

Vanilla Bean Paste
Instructions
For the Germknödel
Warm up the milk so it is lukewarm and add a tablespoon of sugar to it and then the yeast.Let it sit for about 5 minutes.

Mix the flour with rest of the sugar, pinch of salt then when the yeast blooms add it to the flour, as well as the egg, egg yolk and melted butter.

Mix with a dough hook until it's starting to form into a ball, but sticky ball. It will still be sticking to the bottom of your mixer bowl and that is fine. Cover it and let it rest in a warm spot until doubled in size, for about one hour or a bit longer.

Once it is doubled I carefully put it on a floured working surface and stretch it roughly into a rectangle, about one inch in thickness. I do this gently with my hands. Cut it into four pieces then put about 1 1/2 to 2 tablespoons of plum jam in the center of each piece. Carefully but thoroughly close up each piece while shaping it into a ball, the less you handle it the better, just make sure you seal it all good or it will unseal during second proof or steaming process.

Cut 4 circles out of your parchment paper and carefully put each Germknödel seam down on its own piece of parchment paper on a large baking sheet. Cover and let proof for another 20-30 minutes.

You will need some kind of steaming insert or basket for this. I have dumpling steamer baskets that go one on top of another so I was able to cook these two at a time. they need room to grow so don't crowd them.

Boil some water in a pot and put your steaming baskets on top and carefully transfer the Germknödel on it together with its parchment paper. Cover and steam for 17 minutes. While they are steaming, prepare the vanilla sauce (or you can do this while the Germknödel are proofing, that is what I did.)
For the Vanilla sauce
Warm up the milk and the heavy cream in a sauce pot. While its getting hot, in a bowl whisk well the egg yolks and the sugar until frothy and pale in color. Once the milk is hot, while constantly whisking slowly pour the milk into the eggs, then once all is mixed, pour the sauce back into the sauce pan and add the vanilla bean paste. Constantly stir on low to medium low heat until the sauce starts to thicken, it will take about 5-7 minutes. You want the sauce to coat the back of the spoon nicely. Be very careful once you see it starting to thicken, it goes from beautiful sauce to scrambled eggs fast if you aren't careful. Yes. my first batch was scrambled eggs because I got a phone call and walked away for half a minute, ha! It will also slightly thicken as it cools so beware of that if you're making it in advance. I don't like making it too much in advance because I like it served slightly warm over the Germknödel, but I've successfully reheated leftovers in the microwave.

Grind up the poppyseeds (I use my mini ninja blender for this) and mix it with one bag of Vanilla sugar. Link for the one I use is higher up in the post.

Serve the Germknödel in a bowl and pour a generous amount of vanilla sauce over the top. Sprinkle with poppyseeds and sugar and enjoy!