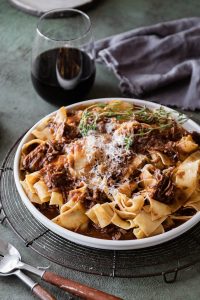 Pasta love
There is really nothing quite as comforting, or as delicious, as a big bowl of pasta. Especially if it's Short Ribs Pappardelle! I've said it many times, growing up there was some kind of pasta on the table at least three or four days out of the week. Pasta was both that special dish. It was made for celebrations, like meat ragout sauce gnocchi, or langoustine spaghetti, as well as an everyday occurrence. Like creamy and peppery bacon pasta or my mom's homemade marinara spaghetti. We ate that literally every week. My dad regularly made gorgonzola tortellini and I already shot that recipe, but somehow it always gets thrown back to the back burner. It is done in less than 20 minutes and makes you look like a goddess.
Short Ribs Pasta
This type of pasta I file under more special occasion pastas. Even though it is actually pretty simple to make and has nice earthy flavors, the luxury of slow cooking it in red wine just makes it special. In general, slow cooked meat sauces or ragouts were always celebration foods back home. No one cooks meat for three or four hours just for a regular lunch! Short ribs in particularly I started cooking when I moved to the US. The principle however is the same. Lots of slow cooked onions make for a good sauce. Use garlic, use good herbs and carrots make everything better and contribute to the earthiness and add lovely sweetness that offsets the wine.
What kind of pasta should you use?
Fresh pappardelle work great for this dish, but this brand is also among favorites if you can't find the fresh ones. Making fresh pasta is fun though, like these ravioli from a few years ago, they were so good! I would recommend wider type of noodles for this dish though, rather than something like spaghetti. More surface to wrap around that yummy meat.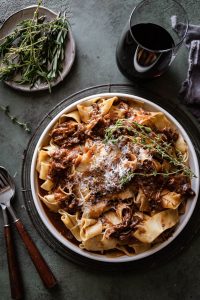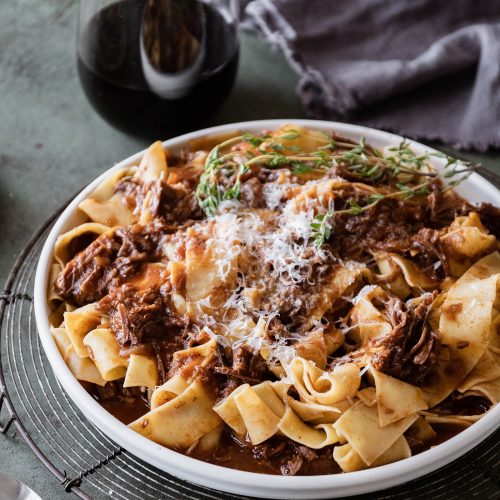 Short Ribs Pappardelle
Fresh Pappardelle pasta served with red wine slow cooked short ribs
Ingredients
1

lb

Pappardelle

4

lb

short ribs, bone in

1/4

cup

flour

olive oil

2

yellow onions

2

medium

carrots

8

cloves

garlic

1

can

crushed tomatoes

3

tbsp

tomato paste

6

sprigs

fresh thyme

2

sprigs

fresh rosemary

2

bay leaves

salt and pepper

3

cups

dry red wine

1-2

cups

beef broth
Instructions
Dice the onions and the carrots and mince the garlic. Season the short ribs with salt and pepper then coat well in flour.

Heat up some oil in a large dutch oven. In some olive oil brown the short ribs on all sides, make sure you don't crowd the pan because they will not brown well if you do.

Once all the short ribs are browned, add some more olive oil to the pan and cook onions and the carrots for about ten minutes. After ten minutes add the garlic and tomato paste and cook it for a minute then pour in the wine and the crushed tomatoes. Add back the short ribs, add the herbs and cook covered on low to medium heat for about two hours, stirring once or twice. After the two hours add enough broth that everything is covered and cook for about another hour to an hour and a half, until meat is falling off the bone.

Fish out the herb sprigs and the bay leaves, the bones and shred the meat. Cook uncovered until the sauce slightly thickens.

Boil a big pot of water with 2 tablespoons of salt. Add the Pappardelle and cook until they are al dente. Mix in with the short ribs and serve with freshly grated Parmesan on top.

You can cook the short ribs in instant pot as well. The whole process is the same, you would just cook them for one and a half hours on high pressure then let them natural release for 15 minutes. I then put the instant pot on saute setting after shredding the meat to thicken up the sauce a bit. I do not use the extra beef broth when making them in the instant pot!