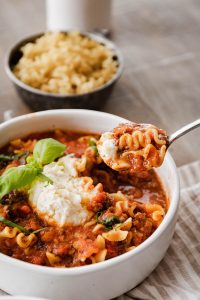 I'm in a big soup mood!
Lasagna is one of our families favorite dishes, but it isn't the healthiest if we are going to be honest. Not the way I make it at least. But boys often ask for it. I thought this was a really clever way to go and make everyone happy. They get the yummy flavors of the lasagna but not with quite as much pasta and cheese. And it's soup and it just makes my mama heart happy to see them eat soup. This soup has tomatoes, onions, beef, some noodles and you control how much pasta you put in. It is cozy, warming and absolutely delicious and it gets better every time you reheat it. If soft noodles bother you, you may want to cook the pasta separately and add it fresh to the soup. I usually am bothered by overcooked pasta and always make sure I make pasta al dente. This soup is an exception though. I do not mind at all pasta getting soft and soaking up all the soupy goodness. Now that I think about it, I do not mind my lasagna pasta being on the softer side either, so this make sense.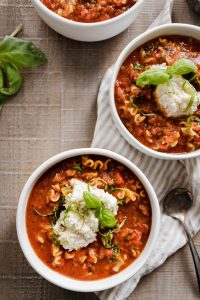 If you wanted to you could easily prepare this soup in the instant pot, but when adding pasta to soups i prefer doing them on the stove. These are the noodles I used for the soup, they were absolutely perfect. Small enough to fit nicely on the spoon and very lasagna like. Here are a couple more recent soup options for you in case you are in the soup mood and need inspiration. The Croatian leek and potato soup is really a special soup to me that I grew up with. This Kabocha pumpkin and lentil curry is like this lasagna soup, ultimate coziness in a bowl! Now let's get to the recipe.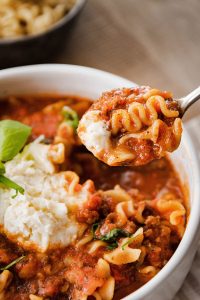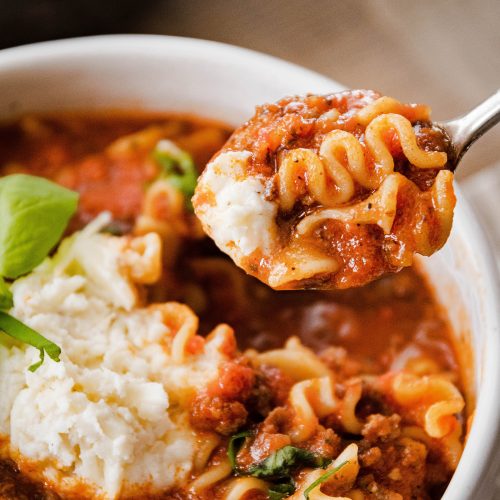 Lasagna Soup
Lasagna but make it a bit healthier and in a bowl!
Ingredients
2

cans

crushed tomatoes

(28 oz)

2

cans

petite diced tomatoes

(14.5 oz)

1

yellow onion

1

lb

ground beef

olive oil

6

cloves

garlic

1

tbsp

Italian seasoning

pinch

ground cloves

1

tbsp

sugar

1

tsp

garlic powder

1

tsp

onion powder

3

cup

dry mini lasagna noodles

or small shaped pasta

1/3

cup

grated Parmesan cheese

3-4

cups

beef broth

salt and pepper

15

oz

Whole milk Ricotta

3/4

cup

grated Mozzarella

1/2

cup

grated Parmesan
Instructions
Dice the onion and mince the garlic. Saute the onions in a large pot with some olive oil for about five minutes, add the garlic and cook for another 30 seconds. Add the beef and cook for another five minutes then season with salt and pepper and add the crushed and petite diced tomatoes. Season with Italian seasoning and cloves, add onion and garlic powder and one tablespoon of sugar. Add 3 cups of beef broth and cook for 30 minutes.

Add the dry pasta and cook for another 10-15 minutes, adding more broth as needed. Once it is cooked mix in 1/3 cup of grated Parmesan cheese.

While the pasta is cooking, grate rest of Parmesan and Mozzarella cheese and mix it together with Ricotta. Lightly season with salt and pepper.

Serve in a bowl and top each bowl with a few tablespoons of Ricotta cheese mixture. I like to scoop a bit of it with each bite, my boys prefer to mix it all up with the soup. You do you. Garlic bread sticks on the side are optional, but highly recommended.