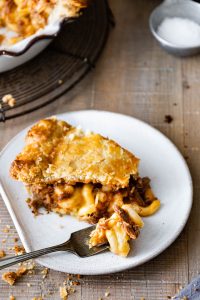 Crust Club
So about this BBQ Mac and Cheese Pie. There is this local to Utah company Crust Club that I've occasionally been ordering food from in the past year. I like many of their dinners and pies, but by far and wide, our favorite is their BBQ Mac and Cheese Pie. My husband also likes their tamale pie, we loved their turkey dinner pie during the holidays as well! I've told many friends and family about them and they all loved everything they ordered. Ooh, they also have baby pies, our favorite so far is pumpkin pie and Tres Leches. Seriously, if you are local to Utah and in their delivery area you should try them out. They even have cookies, so something for everyone. Unfortunately, shipping nationwide is not as simple as it sounds and they had to stop that service, so I have a lot of sad friends out of state. They are as addicted to BBQ Mac and Cheese Pie as I am. I think Crust Club is working on expanding their locations so there is hope. In the mean time, I tried recreating this family favorite.
What is all the fuss about?
Well. it is just the coziest and tastiest dish! I don't know how they thought it up, but the BBQ meat combination with creamy mac and cheese, all wrapped in flaky pie crust. I mean what is there not to love?!? Their pie lasts the four of us for two dinners. My pie was even bigger than theirs and in an extra deep dish and this pie fed us for days and days. It just gets better, the flavors develop more and my boys literally keep asking when we are having BBQ Mac and Cheese pie again. They are good with me ordering or making it, and that is a huge success in my book. Because the original is truly delicious! Funnily for how much I love it, I don't have a classic mac and cheese on my blog yet, but I do have this Beer and Bacon Mac and Cheese and it's excellent!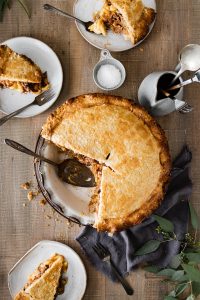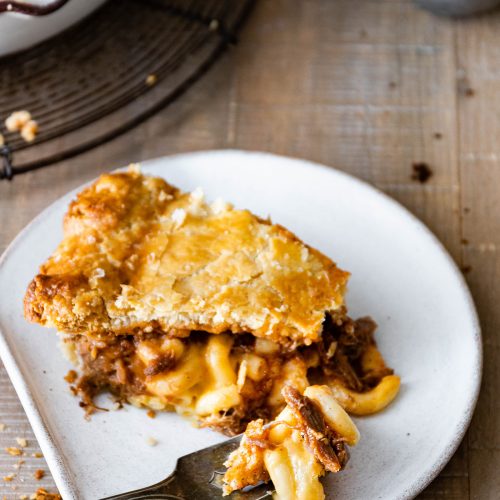 BBQ Mac and Cheese Pie
BBQ pork and mac and cheese wrapped together in flaky pie crust and baked to perfection
Equipment
slow cooker, dutch oven or instant pot, deep pie dish
Ingredients
For the pork:
canola oil

5

lb

pork shoulder, bone in

2

qt

Coca-Cola

salt and pepper

1-1 1/2

bottle

BBQ sauce
For the pie crust:
3 1/2

cups

flour

2

tsp

salt

2 1/2

sticks

butter

1/2

cup

shortening

1/2

cup

ice cold water + another tablespoon if needed

1

egg

for the egg-wash

flaky sea salt
For the Mac and Cheese:
1

lb

elbow macaroni pasta

2

pints

whole milk

3

tbsp

butter

3

tbsp

flour

1/2

cup

sour cream

8

oz

Velveeta cheese

24

oz

shredded sharp Cheddar cheese

1/2

tsp

garlic powder

1/2

tsp

onion powder

1

tsp

mustard powder

salt and pepper

pinch of nutmeg
Instructions
For BBQ Pork:
This doesn't get any simpler. You can make this in a slow cooker (cook on medium for 8 hours) instant pot (cook high pressure for 1 1/2 hours) or dutch oven (cook for 3 to 3 1/2 hours). Whichever way you choose, you will brown the meat on all sides with some canola oil, then you will add Coca-Cola to the pot and cook. I did it in an instant pot for 1 1/2 hours. Once it was cooked let natural release for 15 minutes then released pressure and I removed it from the Coca-Cola and shredded the pork. I seasoned it with salt and pepper and added my favorite BBQ sauce to it. I used about 2/3 of my pork for the pie so I added my BBQ sauce to that portion of the pork. I froze 1/3 of the pork as is for Cuban sandwiches later on. This can be done a day in advance.
For the pie crust:
You can also make the pie dough in advance, if you are making it the day of just make sure you have about 30-45 minutes to let it rest in the fridge. If you make it day before, give yourself extra few minutes for it to rest outside of the fridge.

Dice the butter in cubes and freeze for 20 minutes. I keep my shortening in the freezer so make sure that is as cold as can be as well.

In a food processor combine the flour with salt and pulse a few times. Add half of the butter and pulse a few times. Add rest of the butter and the shortening and pulse until you have smaller chunks of butter and some chunks the size of peas. Now add 1/2 cup of water and pulse until dough starts to combine, if needed add another tablespoon of water. Transfer on the counter and form into two disks and wrap in plastic wrap and let rest in the fridge for at least 30 minutes.

After 30-45 minutes you can roll out the first disk and layer it on the bottom of your pie dish and return it back to the fridge. I am using and extra deep and big pie dish here, it easily gave us 12 good servings.
For the mac and cheese:
Shred the cheddar cheese. Cook the elbow macaroni al dente then rinse in cold water. I never usually do this when making pasta, but in this rare case you want to stop it from cooking any further since it is going in a lot of sauce and then in the oven for 50 minutes.

Add the oil to a large pot and then add the flour. Cook constantly stirring for about 1-2 minutes then add warmed up milk to it and whisk it all in evenly. Add all of the seasonings, sour cream, Velveeta and finally the Cheddar. Stir constantly until it's all melted then add elbow macaroni in and stir until combined. Let cool for half and hour.
For the Pie:
Take the bottom of the pie crust out of the fridge and fill full of macaroni and cheese. Pile BBQ pork on top so it creates a nice mound of meat. Pile it on, this is a high pie.

Now roll out the second disk of pie crust and carefully layer it on top of the bottom of the pie. Cut excess of the pie dough all around the pie then fold under with the bottom pie crust and pinch together with your fingers or press it down with a fork.

Mix one egg with a tablespoon of water to make an egg-wash and generously brush the pie with it, then sprinkle flaky sea salt all over. Make several small cuts on top of the pie so the steam can escape.

Bake for about 50 minutes or until golden brown on 450 degrees. Let rest for about 20-30 minutes before cutting into it.