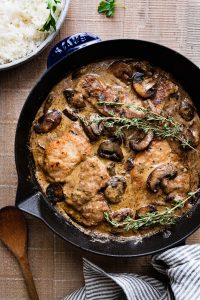 Creamy Mushroom and Pork Schnitzels
Creamy Mushroom and Pork Schnitzels are one of my favorite dishes my mom used to make us growing up. We ate a lot of meat, mostly pork and chicken, but almost never in creamy sauces. As I am thinking about it, this is the only creamy dish that we ate and that is not pasta. I absolutely loved it, I would get so excited when I'd see that was our meal. Even though we were a pasta first family, the Creamy Mushroom and Pork Schnitzels was always served with rice. That was always a nice change, and I loved how rice would soak up all that creamy sauce.
Now, mind you, all I knew back then was what my mom put on the table. My first hamburger I've ever had was when I was 15 years old. Also, I never tried a curry until I moved to the US and was 24. Talk about MIND BLOWN. So Creamy Mushroom and Pork Schnitzels were almost a special dish to me. We ate it a few times a year and as an adult myself now, I definitely make it every few months. We all love this combination with chicken and beef steak as well (looking at you filet mignon) but pork schnitzels (not fully breaded, just coated in flour) remain my favorite version of this dish! If you love a good breaded schnitzel though, I must recommend this stuffed one I made a few months ago.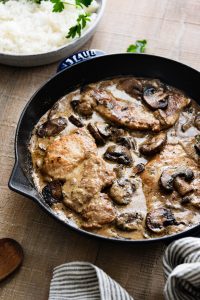 My favorite pan
We got a few great skillets on black Friday sales this year and this 12″ Staub skillet was one of them. I'm in love with it. Also, we got a couple of other nice pans including a gorgeous Finex one that was on my wish list, but this Staub 12′ has got to be my favorite. It has all the advantage of cast iron skillets but it is so easy to clean. We have a 10″ version as well and I think I am definitely a Staub girl.
Years ago I got my first nice pot as a gift and I love it. It is the Le Creuset braiser, it's one of my favorite pots, but I love my Staub Dutch oven just a bit more. I love the black inside, and again, it is easier to keep clean I think. I am honestly not a big fan of All Clad. In the future if I need to add to my collection, I think it will be Staub. That concludes my TED talk about pots and pans, and the reason I am sharing it is because I honestly get so many questions about which one of these do I prefer.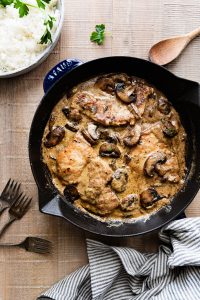 Creamy Mushroom and Pork Schnitzels
Seared mushrooms and pork schnitzels in a cream sauce, served over white rice
Ingredients
6

pork shoulder steaks

preferably not on bone, any pork cutlet will work but some fat marbling makes for a more tender steak

canola oil

20

oz

sliced baby bella mushrooms

1/2

cup

flour

2-2 1/2

cups

heavy cream

6

cloves

garlic

minced

1/4

cup

fresh parsley, chopped

salt and pepper

cooked white rice
Instructions
Take your pork shoulder steaks (schnitzels) and beat them well on each side with a meat mallet. This will make them incredibly tender. Season each side with salt and pepper then coat each side in all purpose flour and transfer to a large pan with some canola oil. Brown them well on both sides. I use a large 12' skillet and this took me 10-15 minutes, I did it two schnitzels at a time. Set them aside while you cook the mushrooms.

Add some more oil to the pan and then add the mushrooms, Season them well with pepper but hold the salt until they brown. Salting them will help release the water sooner and your mushrooms will steam instead of brown. Crowding the pan will do the same thing so you might want to do the mushrooms in two pans or split them between two turns.

Once the mushrooms are browned nicely, season them with salt and add the minced garlic cloves. Cook for about 30 seconds then add 1/2 cup of water and scrape up all the bits on the bottom of the pan, the water will start evaporating soon so add the heavy cream next as well as the chopped parsley. Fresh thyme is really lovely in this sauce too. Now add the schnitzels back in and cook for about 5 minutes then serve over white rice.