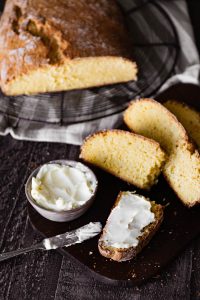 Croatian Corn Bread is truly something special and unlike anything I've ever seen here in the US. Now truthfully, there are many kinds of Croatian corn bread but this happens to be my absolute favorite. It is very dense, slightly moist and with a hard and crunchy crust. It is incredible with Croatian charcuterie boards that often have homemade smoked bacon and meats. I personally adore it with just some good old butter. I remember so clearly living in Croatia and going to the farmers market and getting some homemade corn bread from old grannies that made it, along with some fresh cottage cheese and sour cream. Just go look at this picture and tell me you heart doesn't melt?!? It is incredible peasant food, the best kind there is if you ask me. Add that cured smoked bacon to the mix and you've got yourself a masterpiece.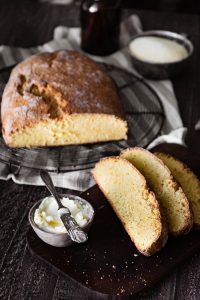 The main difference here is the type of corn flour you use. it isn't corn meal or what you would make polenta with. I actually do have a polenta bread on the blog and it's delicious, but also different than this. For this particular bread you need the actual fine corn flour and it will be mixed with all purpose flour. The corn flour needs to be combined with boiling hot water into a thick paste and then it is left to cool before continuing. It is a process I've learned a long time ago and I do not question it, I just do. I've tried making it once skipping this step and it wasn't the right texture. So here we go with the recipe.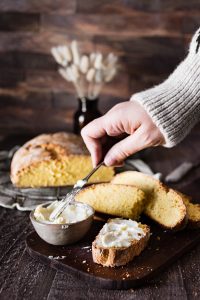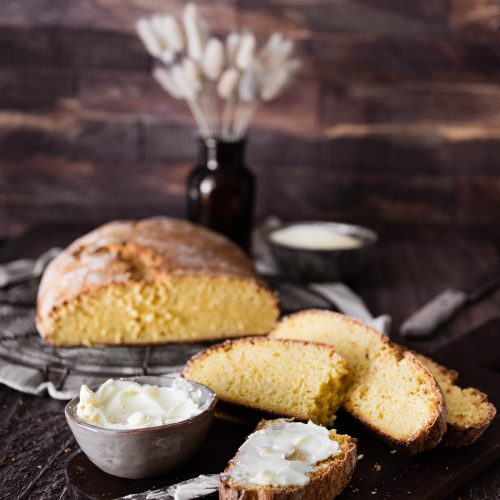 Croatian Corn bread
Dense and moist Croatian corn bread with a nice crunchy crust
Ingredients
600

g

corn flour

450

g

all purpose flour

1 1/2

tsp

active dry yeast

about 1 liter boiling water

4

tsp

salt
Instructions
Boil about 1 liter of water (about 4-4 1/2 cups) and pour it over the corn flour and mix it well. Start with 3/4 of the liquid first and add more as needed. I do this in a bowl of my stand up mixer. You want the consistency of thick paste, it needs to be wet enough that you can mix it without too much resistance but definitely much thicker than let's say a pancake batter. Let it cool completely, for about an hour.

Once it is cool, add flour, yeast and salt to the mix and mix with a dough hook for about 5 minutes. Cover it with plastic wrap and let rise for an hour in a warm spot. It will not rise significantly, it is a heavier type of dough.

I just free form shaped it into a loaf on a baking sheet pan lined with parchment paper and baked it on 450 degrees for 40 minutes and since I wanted a darker crust I baked it for another 7-10 minutes at 500 until it browned nicely.

We loved it so much and ate more than half the loaf warm and just with butter on it. This crust is pretty hard though so if you don't like that you can bake is slightly shorter and also once it is baked you can wrap it in a damp towel, that will soften it a bit. It also naturally gets softer with each day it passes. But this doesn't last long in our house.