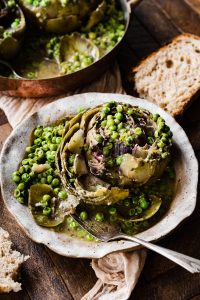 I always say something like "Hey guys, this is one of my favorite dishes!"
Truthfully, I probably have thirty favorite dishes. At least. Is that ok with you? Can we still be friends? These Artichokes with Peas are just one more dish my mom and grandmother on my dad's side used to make. We ate it every spring when artichokes were in season and I have to admit, I'm kind of impressed at all the things we ate. Our diet was always filled with tons of veggies and cool dishes. I honestly can't imagine my kids eating this. Not because it isn't delicious, it totally is amazing. But they are just so picky, like their father, they'd rather just eat pizza and burgers. Oh and let's not forget macaroni and cheese, the holy grail of all the foods. Now don't get me wrong, I love mac and cheese too, but I have to also admit I resent the crap out of it. There is almost NOTHING I can make that Kraft mac and cheese wouldn't win against. Is it my fault?
We as kids were never forced to eat anything, it was just normal to eat what was there and then for the rare few foods we didn't like, we just didn't eat it. So I didn't make my kids eat what they didn't like, that didn't go so well. Then I tried making them eat whatever I made. That really didn't go well at all. And now I have two not so small kids anymore that eat three foods. (almost.)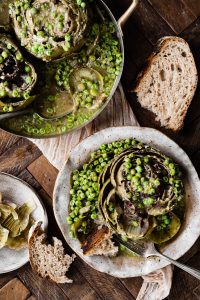 Let's get back to Artichokes with Peas though.
My kiddos might not like it, I mean it's just green, who eats green food anyway?! But my hubby and I adore it, as does the rest of our family. The artichokes are filled with a mix of minced garlic, parsley, bread crumbs, salt and pepper. It is cooked with lots of olive oil, and I truly recommend good olive oil guys, it is so important. I used to bring a few liters from Croatia when I traveled, but that doesn't last long. This olive oil isn't made by someone I know, but it's still better than anything I can get at a store.
Croatian olive oil is truly something special and worth every cent. I don't cook the artichokes in this oil since it's a bit pricey, but I finish the dish with it and it makes absolutely all the difference! I love my homemade sourdough with it, but any good crusty bread on the side is just a must. The only complaint my hubby has about this is that it takes long to eat, each artichoke leaf at a time. He is also annoyed with eating crab because he says it's too much work. If you're one of those, I truly don't know what to tell you. I find so much enjoyment in it, it's the best part! Another beautiful dish from south of Croatia is this extremely basic chickpea soup, I recommend topping this one as well with good olive oil, it's incredible in it's simplicity.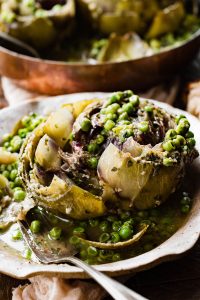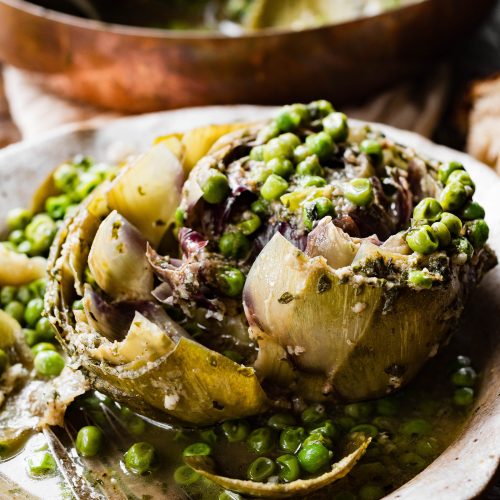 Artichokes with Peas
Artichokes cooked with peas and lots of garlic, parsley, breadcrumbs and olive oil
Ingredients
12

oz

fresh or frozen peas

4

large artichokes

1

lemon

3/4

cup

plain bread crumbs

6

cloves

garlic, minced

1/2

cup

parsley, minced

salt and pepper

olive oil
Instructions
Clean the artichokes by cutting the very top off with a knife, about 1 inch, and the bottom of the artichoke so it can stand up without falling over. Then with scissors cut all around the artichoke cutting the tips of the leaves off and discarding the very bottom leaves, they tend to be too chewy.

Soak the artichokes in a large bowl of water with slices of one lemon in it. I cover the artichokes with a plate so they are submerged.

Mince the garlic and the parsley and mix it together with the bread crumbs and salt and pepper. With your fingers take one artichoke at a time and spread out and open all the leaves and start stuffing them with the bread crumb mixture until all the artichokes are stuffed.

Put some olive oil on the bottom of a pot that can fit all four artichokes in single row and arrange them on the bottom. Gently pour water on the sides of artichokes until it reaches the top, several cups. You will add more water as it cooks out, there should always be water coming up at least half way up the artichokes. Cook for about 1 hour and 15 minutes and then check for seasonings and add the peas. Now cook for another 20-30 minutes and let the water evaporate more and the sauce to thicken a bit.

Serve with crusty bread and plenty of olive oil on top, as well with some freshly ground pepper and flaky salt. If you don't eat a lot of artichokes, the way you eat this is you kind of suck/chew on one leaf at a time, I have a "scrape with my teeth" technique and generally don't enjoy just putting the whole leaf into my mouth, I scrape of all the meat pretty efficiently like this. As you get closer to the center be careful to discard the choke part that is not edible and looks a bit prickly or hairy. Once that is off you will be rewarded with the best part of the artichoke, the heart. Enjoy!