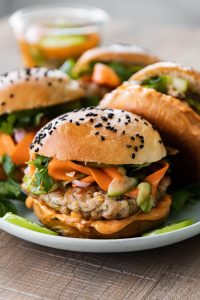 We love sandwiches!
Growing up we ate a lot of sandwiches, a lot of good sandwiches. All the same, the first time I had a Banh Mi sandwich, my mind was blown. These Banh Mi Burgers are a bit of a fusion of my favorite sandwich, with my hubby's, a burger. I've always loved pickling my own veggies and the past few years I always have some quick pickled ones in the fridge. Most commonly you will find pickled onions and jalapeños in my fridge. So, this was all kind of a no brainer for me. I cook with pork all the time and was already thinking of a pork burger. So why not combine everything into Banh Mi Burgers!?
While at it, I also made homemade brioche buns, because why not?! This is the recipe I used if you get the urge to make your own. Or any good quality burger bun will be just great for this.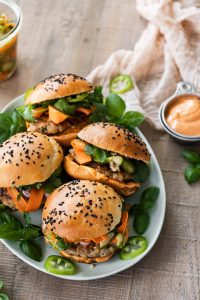 My favorite thing when I first had a banh Mi is just the fact that I was getting all these amazing Asian flavors but in a bun. I never had any kind of bread with Asian food before and I absolutely loved it. It was so unique. The combination of fresh herbs and brininess from the pickled veggies, the crunch it gave, I was just instantly all in. Now this is in our regular rotation of burgers. We still have plenty of classic cheeseburgers, occasional black bean burgers, chicken burgers and these Banh Mi ones. Which just might be my fave! The kids love it too, especially with the homemade brioche buns. if you have the time it is so worth it. We also sometimes make a slightly different version with meatballs made from the same mixture and served on a baguette, if you are in the mood for a more classic sandwich!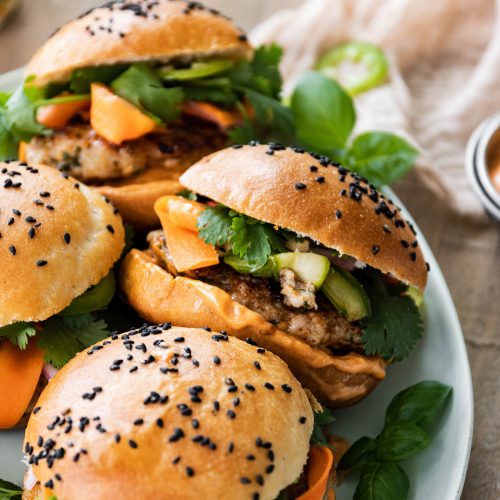 Banh Mi Burgers
Banh Mi Burgers made with quick pickled veggies and lots of fresh herbs
Ingredients
For quick pickled veggies:
2

carrots

2

Persian cucumbers

1

shallot

1

tbsp

fresh ginger, minced

2

cloves

garlic, minced

1

tbsp

sugar

2

tsp

salt

1/2

cup

rice vinegar

1/2

cup

water
For the burgers:
6

Brioche burger buns

1

lb

ground pork

8

leaves

basil

4

leaves

mint

5

cloves

garlic, minced

2

green onions

1

tbsp

sriracha

1

tbsp

fish sauce

1

tbsp

sugar

1

tbsp

soy sauce

4

tbsp

bread crumbs

1

tsp

ginger, minced

salt and pepper

sliced jalapeños, fresh mint, basil and cilantro for garnish

1/2

cup

mayo

2

tbsp

sriracha
Instructions
Using a vegetable peeler slice the carrots and cucumbers into ribbons. Thinly slice the shallot and mince ginger and garlic. In a bowl combine rice vinegar with water and sugar, salt, garlic and ginger. Mix well and pour over carrot and cucumber ribbons. Let sit for at least 30 minutes occasionally stirring.

Chop basil and mint leaves and mince garlic, ginger and green onions. In a large bowl add it to the ground pork along with the Sriracha, fish sauce, sugar, soy sauce, salt and pepper and bread crumbs. Mix well and shape into 6 patties. They will shrink and thicken up as they cook so make them wider than your buns and thinner than you want them.

Cook in a pan with some canola oil for 3-4 minutes on each side.

While they are cooking combine the mayo with 2 tablespoons of Sriracha and generously apply on the bottom of the brioche bun. Once the burgers are cooked, top each bun with it and then top the burgers with several ribbons of pickled carrots and cucumber. Depending on your preferences add fresh basil, mint and cilantro and some sliced jalapeños. Top with brioche bun and serve immediately.